Looking for your first or next recurve bow? Check out my top 5 of best recurve bows for beginners or pros!
In this article, I will compare my favorite recurve bows to each other.
Each of them is great in its own right, but can one take home the crown?
Find out below: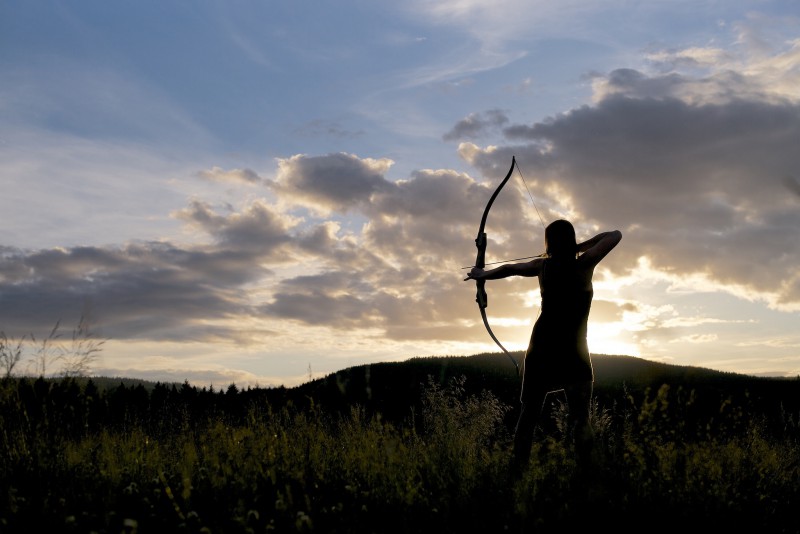 ---
The Following 5 Recurve Bows Join The Competition
Before we go into details, let's have a quick look at the bows, that are in my top 5:
Below, I will let you know all the differences you need to know, before getting one of those recurve bows.
If you already know one of those bows and want to know more about it, you can click on it to get to a very detailed review about just that bow.
At the end of this article, I also have a comparison chart to make it easier to chose the bow that is perfect for you.
---
The Criteria I Use To Choose The Best Bow
In order to make a fair comparison, we have to stick to certain criteria that stay the same for each bow.
We will use the following:
Bow Length
Draw Weight and Draw Length
Material Quality
Beginner-Friendly or for Pros
Right- or Left-Handed
Draw, Handshock, and Accuracy
Price
Just to be clear:
All of the bows on this page are great! No matter which one you take, you won't regret it.
They all are takedown recurve bows! So, you can easily change the draw weight, by buying new limbs.
Please note that you have to buy new limbs if you want to change the draw weight! It is not the same as with compound bows, where you can easily change the draw weight, without having to spend money on new equipment.
I wrote this article to make it easier for you to make a decision if you are still unsure which of the bows suits you the best.
Most important for many archers is the draw weight and draw length. If you are new to archery and don't know what those terms mean, you can read more about them here: Draw Length and Draw Weight.
---
A. The Samick Sage
The Samick Sage takedown recurve bow is a real legend! It is also a very affordable high-quality bow!
Perfect for beginners, it doesn't have to hide when it is getting compared to expensive bows for pros.
With a bow length of 62″, it is situated in the middle of the bows compared here.
You have many options to choose from regarding the draw weight. It ranges from 25 LBS to 60 LBS. So, no matter if you are a beginner or a pro, you can get the appropriate draw weight you need.
The maximal draw length is 29″, which is enough for most archers. There are, however, some archers, who need a higher draw length.
Those can either get special XL limbs or take TheSpyder into consideration!
The riser and limbs are made of wood. Additionally, the limbs are reinforced with fiberglass to make them stronger while staying flexible.
The Samick Sage has a really smooth draw and release. Especially for its price!
It is great fun shooting with it and you will love the accuracy you get from this recurve bow.
To top it up, it is available for right- and left-handed archers.
With a price of usually below $150 USD, you get way more than what you pay for. $200 USD would be an easily justified price for a bow of this quality!
---
B. The Spyder
Luckily, the Spyder has nothing to do with eight-legged creepers.
Some call it the advanced version of the Samick Sage, or even the Samick Sage 2.0.
That is not completely wrong. It has, indeed, many similarities to the Samick Sage…and a little bit more!
Just like the Sage, it has a bow length of 62″ which is enough for most archers. Only if you are exceptionally tall, will you need a longer bow.
The maximum draw weight is 60 LBS, too, but it starts with 20 LBS. That makes the Spyder takedown recurve bow even more suitable for beginners.
Of course, it is great for pros, too.
Even though it has the same bow length, it has a longer draw length than the Samick Sage.
Its draw length goes up to 31″. That makes the Spyder the bow with the highest draw length of all bows, I am introducing in this article.
If your draw length is longer than 29″, don't forget to get XL limbs!
The materials used for the Spyder recurve bow are very similar to the Samick Sage. A combination of real wood and fiberglass gives the bow a great look and stability.
It is a bit lighter and has a better finish than the Sage. That gives it a smoother and more comfortable feel when shooting with the bow.
There are right- and left-handed versions of the Spyder available!
The additional draw weight options, higher draw length and better look, and feel are the biggest differences between the Sage and Spyder. Besides that, they shoot similarly. I would, however, say that the Spyder shoots a bit smoother than the Sage.
It is the updated version of the Sage as mentioned before.
The Spyder can be purchased for below $200 USD usually.
There is also a fantastic set available for the Spyder, which comes with everything you need to get started. At still below $300 USD, this set is the best option if you want to get a bow like the Spyder or Sage.
---
C. The SAS Courage
The SAS Courage is the third bow that is completely made of wood and fiberglass.
With 60″ it belongs to the shortest bows in this article.
Shorter bows can have an advantage when you are hunting or shooting in a forest. You won't get stuck in the bushes with a shorter bow that often.
Its draw weight starts at 35 LBS and goes up to 60 LBS.
I would still call it a beginner-friendly bow, but you need to have a stronger build to start with a draw weight of 35 LBS. If you are new to archery and have a normal or slender build, then this bow is too strong for you.
Make sure to check out my draw weight guide, before getting this bow!
The SAS Courage recurve bow is definitely a great bow for pros, too.
The max. draw length of 28″ is a bit shorter than from the bows before, so you have to make sure that you don't need a bow with a higher draw length.
Again, here is a link to my article about how to measure your draw length.
Like I said above, the bow is made of wood and fiberglass.
It is a very simple looking bow. I think that it is the most traditional looking takedown recurve bow, you can get.
So, if you are a traditional archer, but want to have the advantages and conveniences of a takedown bow, then this is your best choice!
The SAS Courage can be bought for right- and left-handers and has similar attributes like the Sage and Spyder.
It is really smooth, for its price and looks and feels fantastic!
There is some hand shock, but not more than with the other bows here.
It also was my very first recurve bow, so I know what I am talking about!
Can't regret my choice for a bow of that quality for less than $150 USD!
---
D. The Martin Archery Saber
Let's move away from wooden recurve bows now.
Wood is still one of the best materials for bows, but metal has its advantages, too!
Bows with a metal riser (the middle part of a bow) are extremely durable and you can keep the riser literally forever! All you need to do is changing the limbs when you need a higher draw weight.
The Saber is such a bow and with a bow length of 64″, it is also the longest bow in this comparison.
Its draw weight ranges from 30 to 55 LBS. So it is suitable for beginners and pros.
But just like with the SAS Courage, you have to make sure that you don't get a bow that is too strong for you.
It is definitely too much for a small kid!
The Saber has a relatively low draw length of max. 26″, so it is suitable for archers with a lower reach.
Nevertheless, it is a fantastic bow, especially for advanced archers!
It is super fast and the vibration of the bow is kept to a minimum. That means that you won't experience much hand shock at all.
Thanks to the metal riser, it is more weather and temperature resistant than wooden bows.
The grip of the metal riser has rubber parts, which make sure that you don't drop the bow, even when your hands are wet.
Hunting while it's raining? No problem with the Saber recurve bow!
There is one downside with the Saber, however:
It is only available for right-handed archers!
Other than that it is such a great takedown recurve bow!
It usually is available for less than $300 USD. The metal riser and its speed and accuracy justify that price easily.
---
D. The Martin Archery Jaguar Elite
Last but not least, the Jaguar Elite from Martin Archery.
It is similar to the Saber, but has some different specifications:
With 60″ it is the shortest bow, alongside the SAS Courage. It also has the shortest draw length, 22″-24″.
The draw weight ranges from 29 – 55 LBS which makes the bow accessible to beginners and pros.
A short but strong bow has advantages! It is easier to maneuver with it through a forest. It also is lighter which adds even more to this advantage.
So, if you are a hunter, I would highly recommend getting this bow!
The rest is basically the same as the Sabre. It has a different shape and form, but that is up to your personal preferences.
But it has the rubber grip, too.
If you have to decide between the Jaguar Elite and the Sabre, just think of what you want to do with the bow.
The Jaguar Elite is better for hunting. Other than that, the bows are pretty much the same.
The Jaguar Elite is also only available for right-handed archers and usually costs less than $300 USD!
---
Which Bow Is The Best For You?
To make it easier for you to compare the bows, take a look at this comparison chart:
Like I said in the beginning, all of those bows are great in their own right.
If you like wooden bows, you can get any of the first three bows.
However, if you are new to archery, I would definitely go for the Spyder Full Set! Everything is included in this set.
Even a hard case for easier transport and arrows!
If you want a bow that is faster and has a metal riser, get one of the Martin Archery bows.
The Jaguar Elite is best for hunters, the Saber for everyone else.
---
What Was Your First Bow?
Something that always interests me is the first bow an archer has shot with.
What was your first bow, and what are you shooting with now?
Let me know in the comments and also tell me, what you think of my top 5 of best recurve bows for beginners and pros.
Your friend,
Moritz