Name: SAS Courage 60″ Takedown Recurve Bow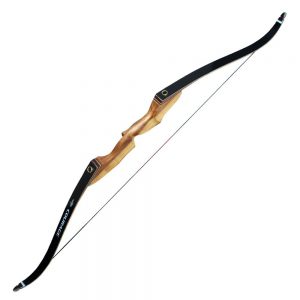 Materials Used: Wood and Fiberglass
Availability: Right Hand And Left Hand
Draw Weights: 35 LBS – 60 LBS
Draw Length: 28″
Bow Length: 60″
Best Place to Buy: Amazon.com
My Rating: 9 out of 10
The SAS Courage 60″ Takedown Recurve Bow – Overview
I have to say that this takedown recurve bow is a great bow for beginners and advanced archers.
It is very robust and sturdy. The fiberglass face of the limbs gives the bow some extra protection.
The bow is very forgiving for beginner mistakes which makes it easier to handle and will bring a lot of joy and satisfaction to the archer.
As it is a takedown bow, it is very easy to transport. Assembling the bow is very easy, too. Even if you have never handled a takedown bow before, you will have no problem to assemble this bow.
The bow is 60″ (about 150 cm) long, which is a good length for beginners and advanced archers.
Not too long, not too short.
Get Your SAS Courage Takedown Bow Here
…or keep on reading to learn more:
What You Get For That Price
Please mind that you get what you see on the picture. There are no arrows or any other equipment included.
I recommend adding an arrow rest and a bow stringer to your order, as this will make your life much easier and the bow stringer will protect your bow from damage.
This bow is extremely light (around 3 pounds), so it will not exhaust the archer too quickly and provides an overall delightful experience.
What Is A Takedown Bow?
I love takedown bows because it is so easy to change their draw weight.
The limbs (or arms) of the bow can be taken off and be replaced with stronger or weaker limbs.
So if you have a child who wants to start shooting, but your bow is too strong for it, you can just get a set of new limbs.
That way you will save some serious money because you don't need to buy a whole new bow every time you need a different draw weight.
The other thing is, that you can transport a takedown bow much easier.
Want to travel and take your bow with you?
No problem with a takedown bow. Just disassemble it and put it in a bow case or sack.
You will need the allen wrench that comes with the bow for that.
If you'd prefer a takedown bow for which you don't need a wrench, take a look at the Samick Sage Bow.
More Facts About The SAS Courage 60″ Takedown Bow
The bow is rather quiet, which is important for bow hunters, but it is not the quietest one you can buy. To decrease the noise, you can buy some string silencers, but those are only needed if you really go hunting.
If you decide to go hunting please make sure you only hunt small game with a bow below 40 lb draw weight.
The riser has a very nice shape which fits into your hand perfectly. The shape and the light weight make sure that your hand won't hurt or cramp when you are shooting for a longer time.
Additional Equipment You Should Consider Getting
Once you feel comfortable with your bow, you can think of adding some equipment like a bow quiver, stabilizer or sight.
My Opinion and Rating
As I stated above, I think that the SAS Courage 60″ Takedown Bow is perfect for beginners and hunters on a small budget.
There are only a few small drawbacks:
only one size (60″) available
no attachments included
unfortunately, there are no bushings for attachments preinstalled
The pros outweigh those small cons easily:
affordable price
both right and left hand available
easy to assemble
robust and sturdy materials
simple yet good looking design
light weight
nice and smooth draw
I would not wait and get this great takedown recurve bow as a beginner right now. It will give you many hours of fun and will make your first archery steps easy and enjoyable.
Please make sure, that the draw weight suits you, though.
To make sure what draw weight you should get, check out my draw weight guide here.
You can use it for both hunting and target archery. Just remember to maybe get an arrow rest, a bow stringer and arrows of course.
Any type of arrow is fine, just make sure it is long enough for the draw length of 28″.
I would recommend an arrow length of 30″.
Learn more about arrows here.
All that's left to say is:
Enjoy your time with the SAS Courage 60″ Takedown Bow and let me know what you think of it.
As always, if you have any more questions, please drop a line in the comments and I will be happy to help you and answer any questions about this or other bows.
Happy hunting.
Moritz