In my first post about "how to aim with a bow", I talked about instinctive archery. The technique where you don't really aim, but just get a feeling for where the arrow will fly.
This required a lot of patience and training.
Now I want to let you know another way of aiming. This time we will use sights, which can make an archers life easier and are relatively easy to use.
You don't need sights to become a successful archer. Try archery with and without sights to find out which you prefer.
When you have finished reading this article and the one before, you will know how to aim with a bow with or without a sight.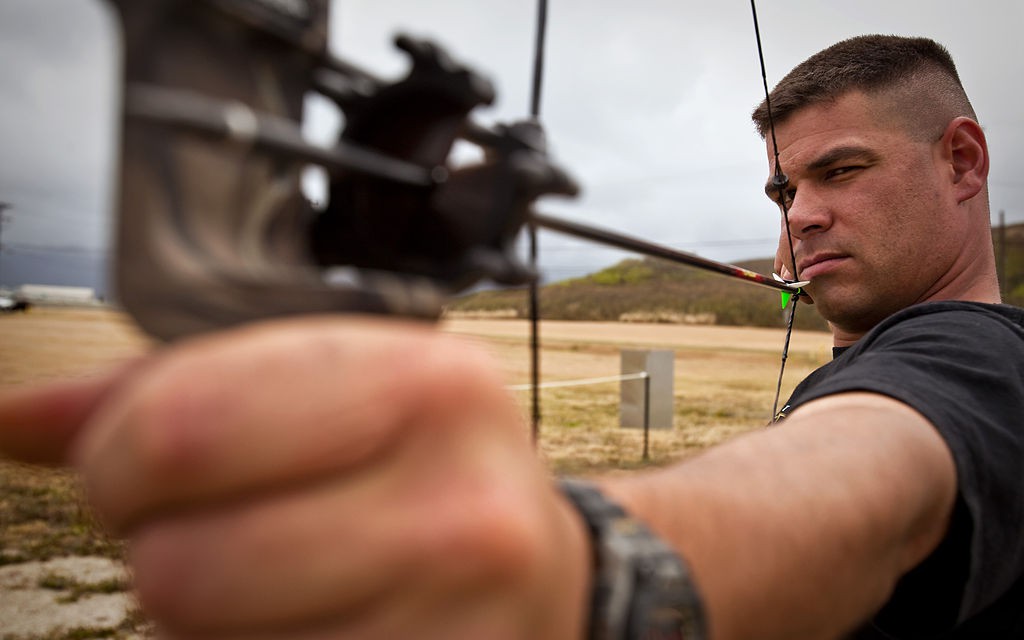 Multiple Pin Sights
Multiple pin sights use up to 5 pins to help the archer hit the target. These pins have to be adjusted first and the archer needs to know the exact distance to the target. Depending on the distance you will use a different pin in your pin sight which marks that distance.
A great 5 pin sight is the Trophy Ridge React 5 Pin Bow Sight. Check it out!
When the adjustment is done (archers call that "sighting in") you aim in a similar way you would aim with a gun. You bring the sight in front of your target and let the arrow fly. If you have done everything correct the arrow will hit the target.
This might sound a bit easier than done. Of course, it still needs a lot of practice, as you can make many things wrong when drawing the bow and releasing the arrow. You can learn everything you need to know in my archery training.
Multiple pin sights are somewhat limited, as you can only use a fixed amount of pins in one sight and they are often not very flexible to adjust them on the x and y-axis.
To be more flexible you should consider getting a single pin sight with a yard dial.
Single Pin Sights With A Yard Dial
The biggest advantage of the single pin sight with a yard dial is that you have much more control over it. You can move it up, down, left and right. So when you sight in your bow you can get it done rather quickly.
Those single pin sights let you set the pin to the desired distance precisely. If you shoot at a distance of 30 yards, you just set your sight to 30 yards using the dial and you don't need to aim higher or lower.
The pin is moveable here.
Those sights come with a price, of course, but are very comfortable to use. One of the best single pin sights is the Optimizer Lite Ultra Sight.
Another great choice is the TruGlo Single Pin Sight.
Archers who don't have a sight with a moveable pin often use a scope in addition to the sight. They need to aim higher/lower than the pin and a scope can help them to get the aim right.
Scopes come in various magnifications depending on the archer's preferences.
Who Needs A Sight?
Before you get out now and buy an expensive sight, I highly recommend to try it without a sight.
If you are a beginner you will shoot on small distances and you don't need a target sight for that.
Just shoot without any sight, or get a cheaper pin sight.
Most archers make a decision along the way if they want to shoot with or without a sight, but I really like both types of archery.
With my longbow, I naturally shoot instinctively and with a recurve bow I like to shoot with a sight.
It is the variation that is fun for me and it is kind of nice to be able to do both. 😉
Let me know which you prefer. Are you an instinctive archer or do you shoot with a sight?
Which sight do you use?
Any questions? Or would you like me to review a specific sight?
Write me in the comments and I will answer you quickly. And don't forget to check out my getting started guide, if you are new to archery.
Yours,
Moritz