The Samick Sage Takedown Recurve Bow is a very famous and popular traditional recurve bow.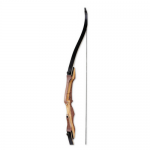 While it uses modern materials like fiberglass to strengthen the limbs, the rest of the bow is made of wood.
That gives the bow a great look and is perfect for both beginners and advanced archers.
---
Hi, I am Moritz and I am a huge Samick Sage Recurve Bow fan!
This bow never stops to amaze me, really!
While it looks rather basic and simple, you get a fantastic bow for a very affordable price.
Need a recurve bow which you can upgrade easily?
Get a Samick Sage and thank me later.
---
A Quick Overview Of The Samick Sage
Name: Samick Sage Takedown Recurve Bow
Bow Type: Recurve Takedown Bow
Draw Weights: 25 LBS – 60 LBS
Max Draw Length: 29″
Bow Length: 62″
Availability: Right Hand And Left Hand
Materials: Wood And Fiberglass
Bow String: B50 Bow String
Arrow Shelf: Yes
Brass Bushings: Pre-Installed For Various Equipment
Best Place To Buy: Amazon.com
Looking at that list you can already see that this recurve bow is great for everyone.
It is especially popular amongst beginners, though.
You get a high-quality bow for a really low price and you can even upgrade its draw weight once you need a stronger bow.
Buying new limbs is much cheaper than buying a whole new bow.
Click on the image above to get your own Samick Sage Recurve Bow.
If you want to know more first, keep reading.
I will give you all the information you need to know below:
---
What It Feels Like To Shoot With The Samick Sage:
Pure awesomeness!
Wooden recurve bows are often underestimated. But the Samick Sage will make everyone smile who has the chance to shoot with it.
You will quickly realize that you have a super accurate bow in your hands.
Arrow after arrow will find its target.
Check out the reviews and the Q&A here.
---
The Outstanding Bow Quality
The riser of this bow is made of Hard Maple and Olive Dymondwood.
The combination of these wood types gives the riser both a great look and highest durability.
You can use it for many years.
It also feels great. Very smooth but durable.
The limbs are made of Maple, too. Additionally, they are enforced with black fiberglass.
Fiberglass is often used for bows because it is very strong even when it is only very thin.
The high durability of the riser and limbs make the Samick Sage perfect for beginners who don't want to buy a new bow quickly.
You can keep shooting it as long as you like the bow.
The included B50 bow string is also very good.
Treat it with bow string wax regularly and you won't need a new one too early.
---
Advantages Of A Takedown Bow
Getting a takedown bow has big advantages.
When you remove the limbs from the bow you can store or transport it much easier.
Many bow cases are specially designed for takedown bows and your bow will fit in one of those cases perfectly.
Another advantage is, that you can change the draw weight easily.
All you have to do is get some stronger limbs and replace them with the old limbs.
You don't even need a tool to take off the limbs.
It can be done easily by hand.
Read the included instructions to make sure you get it right.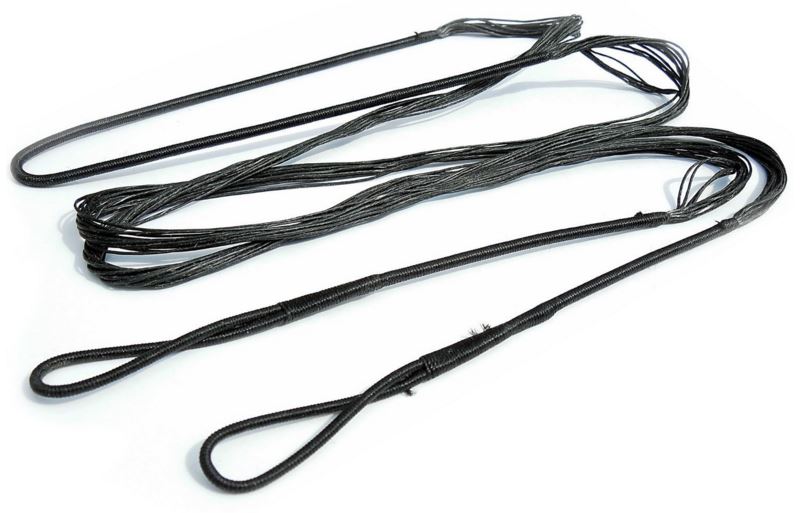 ---
The Samick Sage Is Ready To Upgrade
The Samick Sage Recurve Bow has already bushings in place.
With those, you can upgrade your bow easily.
Do you want a real bow sight, a stabilizer or maybe a bow quiver?
No problem. Get and install them quickly to bring your bow to the next level.
Of course, you can also tune your bow even further.
Maybe you find that your bow is too loud.
In that case, you can equip it with some bow string silencers.
You also might want to get a real arrow rest for your bow.
While I personally like shooting from an arrow shelf, others might don't like it that much.
Arrow rests are cheap, fortunately.
I will review a few arrow rests soon and link to them here.
Stay tuned for that.
---
My Experience With The Samick Sage
Even though I have been shooting for way over 10 years, I still love shooting a Samick Sage when I am not shooting my longbow.
It has a great smooth draw, release and is very accurate.
The riser fits great into the hand and the hand shock is also only minimal.
It is just a great recurve bow.
I love its look and the feeling when I shoot with it!
Watch the video below to see how to assemble the bow correctly:
I highly recommend using a bow stringer like it is used in the video.
It is the safest way to string a bow.
---
Summary And Rating: The Samick Sage Is Great!
The Samick Sage Takedown Recurve Bow is a fantastic bow for beginners or advanced archers.
There is a reason why it is so popular amongst beginners.
It is very much affordable but off highest quality.
I doubt that you can find a recurve bow with similar efficiency and accuracy for that price.
Whether it is for you or for a friend – maybe a Christmas gift – this bow will not disappoint.
UPDATE, June 2017:
The Samick Sage is still one of the best bows of its class.
There is, however, a bow that many call the Samick Sage 2.0.
The Spyder Takedown Bow is the improved version of the Samick Sage and I recommend everyone to check it out here.
---
Have You Tried It?
Let me know in the comments below if you have ever had the luck to shoot a Samick Sage Recurve Bow.
How did you like it or do you like another bow more?
Let's discuss!
Happy shooting.
Moritz