In the first two parts of my archery bow tuning guide, you learned about bow string silencers and how to improve the accuracy in archery.
Now it is time to talk about how to make an archers life easier in general.
While the following things are not a must have, they can remove small annoyances from your daily archery experience and therefore bring you even more joy and fun than you should already have while shooting your favorite bow:
How Can You Make Your Life As An Archer Easier?
Today I will introduce the following gadgets that help many archers on a daily basis:
Bow Stringer
Arrow Puller
Rangefinder
Mechanical Release
Protective Gear
Bow Stringer
This one is something I highly recommend to every archer.
Even if you are an experienced archer, it can keep yourself and your bow safe everytime you string your bow.
There are different ways to string your bow (make the bow ready for shooting), but the safest and easiest way is to use a bow stringer.
Every novice will learn quickly how to use a bow stringer and by using it, will not be in danger of damaging the bow by twisting its limbs in a bad way.
If you don't use a bow stringer and then do it wrong, your bow might lose its strength quickly or might even become unusable because its limbs got twisted too much.
One example of a bow stringer is the Selway Limbsaver Recurve Bow Stringer.

The Selway Limbsaver Recurve Bow Stringer makes it so easy to string your bow, you don't want to miss it once you've tried it.
Watch the video below to see how easy it is to string and unstring a bow with a bow stringer:
Arrow Puller
This little helper is easy to use but such a great guy!
If you are a target archer, you might notice that it is sometimes very difficult to get your arrows out of the target again.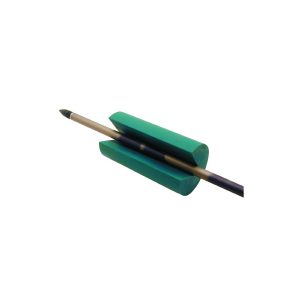 Especially if you are shooting with a strong bow, that drives the arrows deep into the target.
You should never rotate the arrow around to get them out, because you could bend them which would make them unusable.
This is where an arrow puller like the Neet N-GRP Arrow Puller comes into play.
They are very simple but do the trick!
Just take it into your hand, wrap it around the arrow and pull the arrow out gently and easily.
They are so small, that they fit in every pocket.
Believe me, you will thank me one day for giving you this tip!
Rangefinder
Rangefinders are of best use for archers who use a sight and don't know how far their target is away.
This can be on a 3d course, on a homemade archery range or when hunting.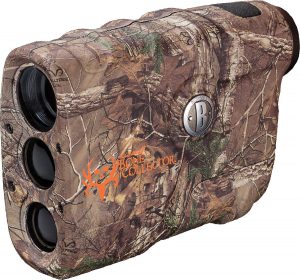 To make sure you can adjust your sight to the targets distance (or choose the right pin), the rangefinder will tell you exactly how far your target is away.
Expect to spend $100+ for a good rangefinder, but I think they are definitely worth their price.
A fantastic rangefinder is the Bushnell Bone Collector Edition Laser Rangefinder.
You can choose between yard and meters and it will tell you the distance to your target on a range of up to 600 yards.
If you are an instinctive archer, you don't really need a rangefinder, because you will estimate the distance to your target using your experience, but if you are having problems with guessing the distance, this handy tool will help you a lot!
Mechanical Release
Mechanical releases are used to avoid mistakes when letting the arrow fly.
Some people pull on the string or do other things wrong, which will reduce the accuracy of every shot and can cause a lot of frustration.
You don't have this problem with a mechanical release, because you just need to push a button, or pull a trigger, to let your arrow fly.
If you are experiencing problems with your release, you should have a look at my article about mechanical releases and the two releases I recommend to archers.
There are generally two types of mechanical releases.
One has a wrist band and the other is held in the hand.
Both are great and can help you immensly.
Check out the links above to learn everything about mechanical releases you need to know!
Protective Gear
Last but not least, you have to make sure you that you and everybody around you stays safe.
First lets have a look how you can stay away from bruises and other injuries:
The things I think everybody should have are:
finger tab or shooting glove
arm guard
chest guard
All of these things will keep you well protected and are low priced items.
Learn more about this in my post about protective archery gear.
Archery is great fun, but never forget that you are handling a weapon that can cause serious injuries and even death.
To avoid those things from happening, you have to shoot in a safe environment.
This is either a professionally set up archery range, or it can be your garden or backyard as well.
If you are shooting on your private property, you have to have a way of stopping arrows that miss the target.
This can be done with a backstop netting.
Read all about backstop nettings and how to keep others safe in my article about archery safety.
Summery Of My Archery Bow Tuning Guide
In my tuning guide, I showed you how to silence your bow, how to improve your accuracy and how to make an archers life easier in general.
These tips will make sure that you enjoy archery even more each and every day.
If you found this useful, or have more questions, please leave a comment below.
I would love to discuss this topic with you.
Have a great day!
Moritz