The Bear Apprentice 3 Compound Bow is a fantastic bow for beginners and advanced archers.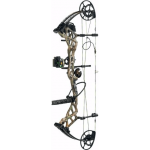 If you ever wanted a bow that grows with you and adjusts to your skill, you have just found it!
In this review, I will explain exactly what makes this bow so great and why you should get it.
Let's get started right away:
---
Hi, I am Moritz and I have been shooting all kind of bows for more than 10 years.
Coming from a traditional archery background I recently fell in love with a compound bow!
The Bear Archery Apprentice 3 compound bow is the perfect solution for everybody who wants to become a serious and good archer without spending too much money.
Read on to find out what makes this compound bow so special:
---
A Quick Overview Of The Apprentice 3
Name: Bear Archery Apprentice 3
Draw Length: 15″ – 27″
Draw Weight: 15 LBS – 60 LBS
Availability: Right Hand/Left Hand
Arrow Rest: Whisker Biscuit
Nock Loop: Yes
Peep Sight: Yes
Bow Sight: 3-pin Trophy Ridge Sight
Quiver: Bow Quiver
Arrows: No
Bow Length: 27.5″
Bow Weight: 2.9 lb
Brace Hight: 6″
Speed: 265 FPS
Let-Off: 70%
Best Place To Buy: Amazon
---
The Look And Feel Of The Apprentice 3
As you can see on the picture, this compound bow looks fantastic!
I can also tell you that it feels the same way when you are holding it in your hands.
First, you will notice how light this bow is. No matter if you buy this bow for a child, teenager or a grown adult you will have no problem with its weight.
2.9 lb is a weight everybody can carry around for a longer time.
Please note that the bow was designed with youth archery in mind.
If you are an experienced archer and an adult, you might find this bow too small for your liking.
Then you will find out that it fits great into any hand, big or small.
This is especially important because this bow is able to "grow with its archer".
I will explain later what I mean by saying that.
When you let your first arrow fly the smooth draw and release will make you love this bow.
The Bear Archery Apprentice 3 features two cams and a string dampening system (reduces sound and vibration), that makes it such a joy to shoot with.
At this price, you won't find another compound bow that is as smooth as this bow.
If you have shot a bow before you know how important that is. If your bow is jumping or punching too hard, it can be very difficult and frustrating to master it.
Especially when you haven't found the right archery technique yet.
Watch the video about the Apprentice 3 Compound Bow below:
---
The Compound Bow That Grows With You
I already hinted at it above, but now I want to go into a bit more detail:
The Bear Archery Apprentice 3 has a very wide range of draw length and draw weight.
Changing those attributes on other bows is often impossible or can be done only very limitedly.
Now, this bow has a draw weight range from 15 or 20 LBS up to 50 or 60 LBS.
Many adult archers don't even shoot with 60 LBS but stop at 50 LBS.
15 or 20 LBS is perfect for young archers to get used to archery, but they usually don't shoot a low draw weight like this for a long time.
Another very important aspect is the draw length.
Too many beginners shoot a bow with the wrong draw length.
The compound bow you are looking at has an answer to this problem, too.
It has a draw length range from 15″ to 27″.
Again, this is enough for most archers. Only very tall people will need a bow with a higher draw length.
I think you understand why I love this compound bow so much.
The only thing that can't grow with you is its total length (from axle to axle).
This will stay at 27.5″ which makes the bow smaller than compound bows adults would usually shoot with.
Therefore it is perfect for kids and teenagers.
But if you want a bow that is small, maneuverable, light but still very powerful, the Bear Archery Apprentice 3 is the perfect bow for you.
---
What Is Included In The Set
Arrow Rest – Whisker Biscuit:
This type of arrow rest is very often used on compound bows. It holds and guides the arrow nicely.
It makes also sure that once loaded(nocked), the arrow can't just fall off the rest, which is perfect for hunters or archers that have to move a lot.
When letting the arrow fly, the fletching (feathers) of the arrow will just path unhindered through the whiskers.
Nock Loop:
The nock loop is a small loop above the nock.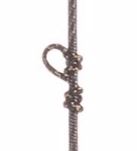 It is used to attach a mechanical release to it. Compound bow archers usually use a mechanical release and a nock loop is a requirement for it.
Of course, it is possible to shoot a compound bow without a mechanical release, but there is always the risk of derailment when shooting without a mechanical release.
(Derailment means that the string would come off the bow while drawing and hurt the archer. This only can happen when the archer is doing something wrong!)
Peep Sight:
A peep sight is a small ring that gets served in the bowstring to help the archer aim.
With a peep sight, you can aim similarly like you would with a gun's iron sights.
3-Pin Trophy Ridge Sight
The included sight is a very basic 3-pin sight. While it does what it
should you might
want to get a more advanced sight after some time.
The TruGlo Single Pin Sight is a fantastic sight with a single pin.
If you prefer multiple pin sights, you should go with the Trophy Ridge React which is a modern 5-pin bow sight.
Still, for beginners who just get started with archery, it is great that a sight is already included in the bow set.
Quiver
A bow quiver is also included. It gets attached to the bow so your arrows can be reached conveniently and quickly.
The quiver holds up to 4 arrows. 
Let Off
While this is not a tool it is still important to mention.
The let off of this bow is 70%. That means when you are in full draw, you only need to hold 30% of the actual draw weight.
Your bow is doing the rest of the hard work.
If you want to know more about let off and how compound bows work, please read my article What Is A Compound Bow?.
Having a high let-off is great because you won't get tired quickly.
How To Choose The Correct Apprentice 3 Compound Bow
When you follow my link to the Apprentice 3 Compound Bow you have the choice between a few versions of the bow.
Only the first two bows start with 20 LBS and go up to 60 LBS draw weight.
The other bows go from 15 LBS to 50 LBS!
Please also make sure you pick the color you want.
Most important: Choose the correct bow depending on if you are left- or right-handed!
If this is your first bow you have to test yourself to find out whether you need a bow for the right or left hand (this can be different from what you might expect!).
---
The Perfect Gift For Any Occasion
If you are looking for a (Christmas) gift and want your child to stay outside more and don't spend so much time in front of the computer or PS4, get a bow for it.
Most kids are fascinated by bows and simply love shooting one, once they started.
But it is also a great gift for yourself or your partner.
Remember that the draw weight and draw length can be adjusted easily to almost anyone.
I know you will love it the way I do!
Top quality to a really fair price.
Once you got your bow, come back to me and let me know how you like it.
Or if you bought it for someone else tell me as well!
I am sure you won't regret getting this bow.
Leave me a comment below and I will be happy to come back to you quickly.
Happy shooting!
Moritz