I have finally found it and wanted to share it with you immediately: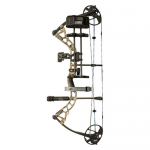 The best Diamond Archery Compound Bow!
I have never seen a compound bow that you can adjust as much as the Diamond Archery Infinite Edge Pro.
---
Hey, I am Moritz and I am amazed by this compound bow!
No matter how old you are.
Whether you are a beginner or advanced archer.
This compound bow is just what you need.
And it will last you forever, thanks to the wide range of draw weight and draw length.
Read on to understand why I am so excited about this compound bow:
---
Quick Facts About The Diamond Archery Infinite Edge Pro
Name: Diamond Archery Infinite Edge Pro
Bow Type: Compound Bow
Draw Weight: 5 – 70 LBS
Draw Length: 13″ – 31″
Bow Weight: 3.5 lb (without attachments)
Bow Length: 31″
Let-Off: 80%
Brace Height: 7″
Arrow Speed: up to 305 FPS
Available For: Right Hand And Left Hand
Colors: Mossy Oak Country, Black Ops, Pink Blaze
Pro Package Includes: Bow Sight, Bow Quiver, Arrow Rest, D-Loop, Peep Sight, Wrist Sling, Stabilizer
Best Place To Buy: Amazon.com 
---
The Compound Bow That Can Do Everything
It is safe to say, that this is one of the most versatile bows out there.
Whether you are looking for a professional bow for a child or an adult, beginner or advanced, the Infinite Edge Compound Bow is the right choice.
When treated correctly, it will last forever and will grow with the archer.
Is it getting too easy to draw the bow? Just adjust the draw weight and you are ready to go.
No need to get a new bow anytime soon!
---
Why You Should Get The Pro Package
The bow itself is great, and it gets even better with the pro package.
If you don't already own a bow, you will need some additional equipment to give you an easier start anyways.
Almost everything is included in the pro package.
The only thing you will need to add are some arrows and maybe a mechanical release.
Take a quick look at this short video about the Infinite Edge Pro Package:
---
Let's take a closer look at the attachments that come with the bow
The Infinite Edge Compound Bow features the complete set of attachments you need to get the best possible start.
Get it all in one go and don't worry about getting it right by yourself, especially as a beginner.
Here's what you will get with the compound bow:
Hit the Bullseye with the 3-Pin Tundra Bow Sight
Most compound bow shooters use a sight to improve their accuracy. Instinctive archery is something for longbow or traditional recurve bow archers.
This Tundra Bow Sight is decent, but there are better options available. It is absolutely fine for beginners, but you might want to consider a single pin sight like the TruGlo Single Pin Bow Sight, or a 5 pin sight like the Trophy Ridge React 5 Pin Bow Sight, once you are getting more advanced in archery.
Store your arrows comfortably with the DeadLock Lite Octane Quiver
This quiver is a bow quiver, so it gets attached directly to the bow. It holds up to five arrows of any kind (field tips, broadheads, …). The quiver is specially designed to hold the arrows tightly but still makes it easy to handle it. Removing or adding arrows is done quickly and easily, once you have gotten used to it.
No arrow will fall down thanks to the Octane Hostage XL Whisker Biscuit Arrow Rest
Unlike other whisker biscuit arrow rests, the whiskers don't go all around the inside of the rest. This makes it even easier to nock an arrow. But it still keeps the arrow safely in place and you don't need to worry about dropping an arrow when moving through a forest or on the archery range. It also guarantees a longer life for the rest, which is always a plus.
Reach maximum accuracy with the installed D-Loop and Peep Sight
Often overlooked, these two little helpers can make the difference between a close miss and bullseye.
Most compound bow archers use a mechanical release for drawing and releasing. To use a mechanical release, you need a D-Loop to attach it to. It is always good to have it preinstalled, so you don't need to do that yourself or go to an archery store.
The same is true for the peep sight. It makes aiming down the sight much easier and accurate. Again, this is not a must-have but when you can get one for free, you shouldn't say no to it.
The Comfort Wrist Sling keeps the bow from falling to the ground
When you have practiced archery for a while, you know that the follow through is a crucial technique when shooting with a bow.
Part of the follow through is, to not hold the bow too tightly in your hand and let it tip forward when releasing the string.
Having a wrist sling will prevent the bow from falling accidentally to the ground during the follow through and this will take that fear from your mind.
The 5″ Ultra-Light Octane Stabilizer improves accuracy immensely
The Octane Stabilizer rounds up this great package nicely! Stabilizers reduce vibration and unwanted rotations of the bow.
They hugely improve accuracy and can bring you big steps forward in competitions or when trying to beat your own high score.
---
Advantages Of The Infinite Edge Compound Bow
The first thing you will notice is that it is pretty light and has a very smooth draw and release.
Thanks to the let off of 80%, you can draw and hold it easily to take aim.
While the 3 pin Tundra sight is pretty basic it is great for those who want to get started with archery.
You can always change the attachments if you want later.
The main advantage is, that the bow is extremely adjustable and of a high quality. You will have difficulties finding a compound bow that starts with a draw weight as low as 5 LBS!
Just get yourself some arrows and hit the archery range.
---
My Rating: The Infinite Edge Compound Bow Keeps All His Promises!
The Infinite Edge Compound Bow is a stunning bow!
Not only is its quality of the highest standard, shooting with it is also extremely rewarding and fun.
I know that you will love it just as much as I do.
You can check out its latest price here at Amazon (this is the cheapest prize!).
Have a great day!
Moritz