While finger tabs are still the most commonly used type of finger protection gear, archery shooting gloves are a great alternative to give your fingers their well-deserved respite.
If you are suffering from hurting fingertips and are looking for ways to save your fingers, continue reading about shooting gloves:
---
Name: Damascus DWC Archery Shooting Glove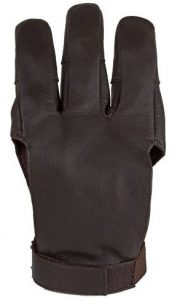 Materials: 100% Leather
Specialties: Right Hand & Left Hand
Size: Small, Medium, Large, X-Large
Design: 3 Finger Design
Color: Dark Brown
Best Place To Buy: Amazon.com
My Rating: 9 out of 10
---
How Does A Shooting Glove Protect My Fingers?
The idea is the same as with finger tabs:
Give protection to the three fingers holding and drawing the string.
The main difference is, that a shooting glove either covers the whole hand (like any other glove would do), or the whole three fingers of your draw hand.
Remember, that the tab covers only the fingertips.
Another difference is, that the glove has a wrist band to keep it in place. So the shooting glove will fit better and tighter than a tab.
Maybe you are thinking now, that you could just use any glove for shooting your bow, but I would advise against it.
A normal glove is usually not up to the task when it comes to saving you from the pinch the bowstring gives your fingers.
There are a few things shooting gloves need to give you the best possible archery experience:
---
What Makes A Good Shooting Glove?
A good shooting love needs to fit tightly so that there is not too much air between your fingers and the glove.
Still, they need to be comfortable to wear what comes down to the materials used.
The best gloves are made of real leather.
It doesn't stop there, though.
Your fingertips are the place where the strain is the biggest, so it is a great idea to look for gloves, that are reinforced at the fingertips.
Those will protect your fingers better, but will also give the glove a better durability.
You need both protection and control, so besides being reinforced, the surface of the glove has to be smooth for a good release.
It wouldn't help if the string couldn't leave your fingers unhindered by the glove.
So look out for the following things:
tight fit
comfortable to wear
reinforced finger tips
smooth surface
adjustable wrist strap
When you make sure your glove fulfills all these requirements, you have found a winner!
---
A Look At The Damascus DWC Archery Shooting Glove
I tried the shooting glove mentioned above and it does a fantastic job.
It is made of 100% leather and feels really great to the touch.
You can wear it on your right or left hand and there are several sizes to choose from.
While the reinforced fingertips give your fingers maximum protection, it is still sensitive enough to give you full control over your bow.
The release is neat and you don't need to be afraid that the glove will influence your shooting in any bad way.
To secure the glove to your hand, it has an adjustable wrist strap which fits any wrist.
---
Why Give It A 9 Out Of 10 Rating?
Above I gave you information about gloves in general and details about the DWC Shooting Glove.
While I really love the glove it might not be the best choice if you are shooting bows with very high draw weights.
If you are above 50 LBS draw weight you might want to get a glove with thicker leather.
Everything below 50 LBS can be handled easily by this glove.
As you can see, archery shooting gloves are a great way of protecting your fingers and if you are having problems with using finger tabs or don't want to install finger savers, they are the next thing you should get to improve your archery experience.
Give the DWC Shooting Glove a shot.
You will not regret it!
---
What is your favorite type of finger protection in archery?
I would love to hear from you to learn about your opinion.
Just drop me a line in the comments below.
Have a great day!
Moritz