Still looking for the perfect gift for your teenage child?  
Your kid loves archery?
The Barnett Vortex Youth Compound Bow will save your day!
It is a fantastic beginner bow, which will grow with the archer while he gains experience!
---
Hi! I am Moritz and like every other archer, I had to start somewhere, right?
When I started with archery, I did that with a recurve bow. Later I switched to a longbow (love it).
But I always wanted to try a compound bow, too.
So I had a look around and came across the Barnett Vortex.
(I was younger then!)
I still think it is one of the best compound bows for young archers!
---


Before I explain in detail what makes this bow so great, let's take a look at a quick summary:
Quick Facts About The Barnett Vortex
Name: Barnett Vortex Youth Compound Bow
Bow Type: Compound Bow
Draw Weight: 19 LBS – 45 LBS
Draw Length: 21″ – 27″
Let-Off: 60% – 70%
Availability: Right Hand Only
Bow Sight: Yes
Bow Quiver: Yes
Arrows: 3x
Cheapest Place To Buy: Amazon.com
After this overview, let's dig a bit deeper and take a more detailed look:
---
The Barnett Vortex Youth Compound Bow Set Explained
This compound bow set can be shot right after taking it out of the package.
The only essential thing you will need is an archery target.
The Adjustable Draw Weight
Being able to change the draw weight in such a big range is a huge advantage.
As a beginner, it is always a good idea to start with a lower draw weight. Even as an adult it is better to start with a weight around 25 LBS.
For a teenager, it is great that the lowest draw weight is only 19 LBS.
Perfect for learning the right archery techniques.
And once the young archer gains experience and builds up some strength, you can just adjust the draw weight to a higher level.
It will take years before your kid will outgrow this bow!
The Adjustable Draw Length
Looking at the draw length, you will notice that it also can be changed.
Again this is awesome for archers that are still growing.
Other bows need to be replaced when the archer's arms become too long.
Not the Barnett Vortex Compound Bow!
Just change the draw length and save a lot of money.
The Let-Off Makes Drawing The Bow A Breath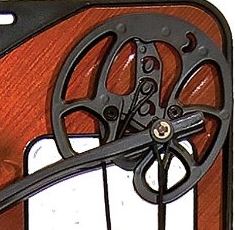 Every compound bow has a certain let-off.
The let-off is what makes compound bows special and such a great bow.
The pulleys (or cams) of a compound bow will reduce the draw weight of this bow by up to 70% when fully drawn.
At the beginning, you will have to pull back the full weight of the bow. But the more you pull it back, the easier will it be.
I am sure you have used a pulley system somewhere already and know how it works.
It works the same in a compound bow.
Right Hand Only (The Only Thing I Didn't Like)
The bow is only available for right-handed archers at the moment.
This is the only disadvantage and I hope that the manufacturer will make a left handed version available in the future.
The Bow Sight Could Be Better
A good archery bow set needs a bow sight.
The bow sight included here is nothing fancy, but will do its job right.
It is a 3-pin sight, which will help the young archer hitting the mark consistently.
Once you think it is time for a more advanced sight, you can check out the TruGlo Single Pin Sight or the Trophy Ridge React 5 Pin Sight.
Both are great!
But you won't need them when you are just getting started.
The 3-pin sight is already pretty good.
The Bow Quiver: Easy Access To Your Arrows
I love that this has not been overlooked.
It is just convenient to have a quiver that is attached to the bow. You don't need to buy another type of quiver if you don't want to.
A bow quiver gives you quick access to your arrows without hindering your movements.
Perfect for both target practice and hunting.
This bow quiver has room for three arrows.
The Arrows Round Up The Package Nicely
Simple target practice arrows are part of the set.
They are of the perfect length for this bow, so you don't need to worry about getting the right arrows anymore.
Just take them out of the package and start shooting.
Once you need more arrows, make sure you buy some of the same lengths!
Never buy shorter arrows.
If an arrow is too short, it can fall off the arrow rest and cut into your hand!
The arrows are target practice arrows and should not be used for hunting.
If you want to go hunting, make sure the draw weight of the bow is set to at least 30 LBS and your arrows are equipped with broadheads.
---
Is The Barnett Vortex Youth Compound Bow Any Good?
It absolutely is!
There is no other bow that competes with it in that price segment!
When you or your teenage child learn archery with this compound bow, you will have the best possible start!
Even if you are not new to archery, but want to take your archery game to the next level, this bow will just do that.
The draw and release are smooth and the accuracy is great.
With the help of the bow sight, you can hit targets easily that are more than 20 yards away, too.
If you want to add a peep sight, you can do that without a problem, because the bowstring can be separated easily to fit in the peep sight.
It is also a top seller on Amazon with great reviews.
You won't get it cheaper anywhere else.
Watch out!
There is another version of the Vortex, the Vortex Light.
But that is not the same bow!
---
Conclusion: The Barnett Vortex Is A Great Compound Bow
It absolutely is!
The bow is of a great quality and will keep your teen busy for many years to come.
The only things that I noticed that were not 100% perfect were the sight and the arrow rest.
They are functional, but there are definitely better ones out there.
Don't worry about that, though.
Let your kid get used to the bow and archery. Once it wants to take the next step, the bow can easily be upgraded.
Moritz