Are you an experienced archer and want to take archery to the next level?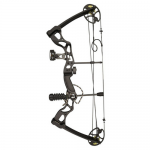 The SAS Rage Compound Bow is the perfect choice for you!
With a price usually starting from below $200 it is still very affordable.
But you get an accurate and strong 70 LBS compound bow for your money.
Want to know more?
Read on to learn everything you need to know about this great compound bow for advanced archers:
---
Hi, I am Moritz and I have been shooting bows for many years.
After shooting for a while with beginner bows, I took the leap and got a real professional bow.
WOW!
It is amazing how much power such bows have. You feel the difference in accuracy immediately.
Once you have tried such a bow, you will never go back to your old bows.
Trust me!
---
Before we go into the details, let's have a look at a quick summary:
The Quick Facts
Name: SAS Rage Compound Bow
Bow Type: Compound Bow
Draw Weight: 55 – 70 LBS
Draw Length: 26″ – 30″
Bow Weight: 4.4 lb
Bow Length: 35″
Let-Off: 70%
Arrow Speed: 270 FPS
Materials: Compressed ABS
Available: Right Hand Only
Pro Package Includes: Bow Sight, Quiver, Arrow Rest, D-Loop, Peep Sight, Wrist Sling, Stabilizer
Best Place To Buy: Amazon.com
Especially when looking at the Pro Package, you will see that you get a lot of bow for your money.
Even when you only get the bow, you will have made a great deal.
Please note, that there are now arrows included.
You will need to buy some arrows extra.
I recommend 30″ carbon arrows or 30″ aluminum arrows.
---
A Powerful And Fast Bow
The SAS Rage is a really strong bow.
The lowest you can set it to is 55 LBS. This means that this bow is not a bow for beginners!
The average person without archery experience will have problems when trying to draw a bow with 55 LBS draw weight.
And you can increase the draw weight to even 70 LBS.
That is even too much for me!
You need a strong upper body to draw a 70 LBS bow.
The compound bow is not only strong but also very fast.
The maximum speed of 270 FPS is really good for a bow.
Speed is important when you want to go hunting.
The SAS Rage Compound Bow is great for that!
---
Getting Easier The More You Draw
Like all compound bows, this bow has cams that work like a pulley system.
When you start drawing the bow, you have to pull the whole draw weight yourself.
After a short time, the cams will kick in and it will get easier and easier to pull the string back.
When you are in full draw, you only need to hold 70% of the original draw weight.
That is the 70% let off. It makes it a breeze to hold the bow in full draw.
You can take your time for aiming and won't get tired too quickly.
---
Make Sure The Size Is Right
The SAS Rage has a total bow length (axle to axle) of 35″ and its draw length ranges from 26″ to 30″.
Before you get this bow, you have to know or measure your personal draw length.
Same goes for the draw weight.
As I said, this bow starts at 55 LBS and is not suitable for beginners.
Please only get this bow, when its size and strength is right for you.
If it is, you can't do anything wrong with this bow.
It is great. I absolutely love it!
---
Want To Go Pro? – Get The Pro Package!
The basic bow doesn't come with any additional equipment.
If you want to spend a bit more, and don't want to worry about other essential equipment, the Pro Package is what you have to get.
The following is included ONLY IN THE PRO PACKAGE:
3-Pin Bow Sight
Trophy Ridge Quick Shot Arrow Rest
Quick Detach Bow Quiver
Tube Peep Sight
D-loop
Wrist Sling
Aluminum Stabilizer
Remember, that there are now arrows included!
The 3-Pin Bow Sight
While being a basic bow sight, it will help you improve your aim quickly.
Sight it in and you will notice that you will have a much easier time to hit your target regularly.
Trophy Ridge Quick Shot Arrow Rest
I was not that convinced by the arrow rest.
You can use it for some time to get used to the bow.
But if you already have another arrow rest, like a whisker biscuit arrow rest, I would go with that one.
Quick Detach Bow Quiver
This bow quiver can be attached and detached quickly.
It can hold up to 5 arrows at the same time.
Bow quivers are really great. They are the fastest way to gain access to your arrows.
When I am not shooting my longbow, I always use bow quivers.
Tube Peep Sight
In short, peep sights give you a similar experience like if you were aiming a gun.
Bring the peep sight in line with the bow sight pin and you will increase your accuracy a lot.
It has to be properly installed first of course.
D-loop
Most compound bow archers use a mechanical release with their bow.
To use such a release correctly, you need a D-loop to attach it to.
Wrist Sling
A wrist sling is a sling that gets bound to your wrist.
When you release your arrow, the bow will naturally tip forward.
You can stop it from falling down either by holding it tightly with your hand or by using a wrist sling.
For higher accuracy, it is recommended to use a sling.
This will improve the follow through after each shot.
Aluminum Stabilizer
To round up the package there is a stabilizer included.
Stabilizers reduce rotation and other human errors when shooting a bow.
Most advanced recurve bow and compound bow archers use them to fine tune their technique.
The stabilizer that comes with this bow is a 8″ 6.5oz aluminum stabilizer.
---
How Good Is The SAS Rage Compound Bow Really?
Pretty good, to be honest.
For a low price like this, you get a really great compound bow for advanced archers!
Its draw and release are smooth and it shoots very accurately with a sight.
If you feel that it is a bit too loud, you can add some string or limb dampeners.
This bow is great for both target archery or hunting.
Its low weight of only 4.4 lb makes it easy to carry it around for a longer time.
I highly recommend the SAS Rage Compound Bow!
When you follow the link below, make sure to choose the correct bow.
There are two different colors and the Pro Package.
Conclusion: The SAS Rage Compound Bow Is Perfect For Pros!
As an experienced archer, you know what is important and what is not.
The SAS Rage Compound Bow is a fantastic bow for advanced archers and pros that will not let you down.
It is strong, fast, and very accurate.
You will feel like a sharpshooter!
Let me know whether you like this compound bow or not.
Leave me a comment below and we'll have a chat.
Happy shooting!
Moritz