Today I finally want to show you three high quality longbows for sale.
In the past I introduced you to great recurve bows, compound bows and even crossbows.
While doing this I was looking for the best longbows out there and now I am sure I have found them.
If you follow my blog, you know that I love longbows and that my own longbow was hand crafted by a bow maker I have as a friend.
The three longbows I talk about below are the best longbows you can get, if you don't know a bow maker who can make a custom longbow for you:
Fred Bear Montana Longbow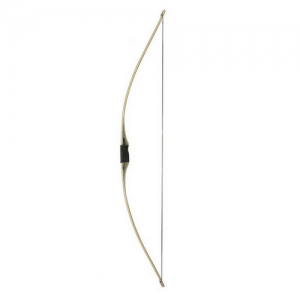 Quick facts about the Fred Bear Montana Longbow:
Bow length: 64″
Draw length: 28″
Draw weight: 45 – 55 LBS
Bow weight: 2.4 LBS
Color: black
Right hand only
My rating: 9.5 out of 10
This is a fantastic longbow for a very fair price!
The limbs of this bow are made of a maple core, reinforced with black fiberglass. This  doesn't only make the bow look aweseome but very durable, too.
The riser is made of a piece of dymondwood, which is wrapped in leather for a better grip.
Reinforced tips give the bow a strong draw every time you shoot.
This bow is only available for the right handed archer!
If you are looking for a left handed longbow, please read on as I will talk about a left handed bow later on.
Why I love the Montana Longbow
When I tried this bow at the archery range, I was surprised how smooth it was to draw the bow.
There was also no hand shock when letting the arrows fly.
These attributes make it much easier to draw and shoot a bow with higher draw weights.
With only 2.4 LBS weight, the bow is also super light to carry and easy to use on longer archery sessions!
The only negative thing I can say about the bow is, that it is only available for right handers at the moment.
Other than that it is perfect for target shooting and hunting!
(Don't forget to get appropriate arrowheads if you are going on a hunt.)
The Montana Longbow is smooth, fast and it looks great!
This will definitely be my next longbow, when my current one has to retire.
Get The Fred Bear Montana Longbow Now!
PSE Archery Sequoia Longbow
Quick facts about the PSE Archery Sequoia Longbow:
Bow length: 68″
Draw length: 28″
Draw weight: 45 – 55 LBS
Bow weight: 3 LBS
Color: bamboo
Right hand only
My rating: 9.0 out of 10
If you are on a tighter budget, then you can go for the Sequoia Longbow!
It is very similar to the Montana Longbow, but it comes in second as I will explain below.
What I Love About The Sequoia Longbow
I love that the Sequoia Longbow looks very simple and more like we would imagine a traditional longbow.
Still it looks very unique:
It is made of a combination of walnut and cherry, while the limbs feature bamboo reinforced with fiberglass.
Please note that this is also only a right handed bow!
Why Is It Second Best Only?
Don't get me wrong! The Sequoia Longbow is a great longbow!
Its quality is great and it performs equally great.
With 3 LBS it is still light, but heavier than the Montana longbow.
The main difference I noticed was the hand shock!
While the Montana didn't have any hand shock, the Sequoia Longbow did have some!
This can make it a bit more difficult to keep up your accuracy when shooting for a longer time, but you can get limbsavers to fix that problem.
All in all it is a fantastic bow and it is up to you which bow you personally like more!
Get The PSE Archery Sequoia Longbow Right Now!
Ozark Hunter Longbow

Quick facts about the Ozark Hunter Longbow:

Bow length: 68″
Draw length: 28″
Draw weight: 45 LBS
Color: black
Left hand only

My rating: 9.0 out of 10
As promised, I present you now a great left handed longbow, the Ozark Hunter Longbow.
Its specs are very similar to the Sequoia Longbow.
The only differences are the materials used, the available draw weights and that it is left handed.
The Ozark Hunter Longbow is made of maple, purple heart and walnut, while the limbs are reinforced with black fiberglass.
My Rating Of The Ozark Hunter Longbow
It is the same as the Sequoia Longbow!
It is an excellent bow! It is fast, smooth to draw and accurate, but has problems with some hand shock!
Again, I can recommend to get some limbsavers to work against the hand shock.
That being said, you won't regret to get the Ozark Hunter Longbow, if you are a left handed archer!
No matter if it is your first bow or not, you will master it quickly and have a lot of fun shooting or hunting with it.
Get The Ozark Hunter Longbow Here!
Closing Words
There you have it:
Three awesome high quality longbows for sale!
No matter which bow you choose, you will have a great experience with it. This I can guarantee!
Let me know below in the comments if you have any further questions and if you got one of these three beauties.
I am looking forward to talking to you!
Yours,
Moritz