As an advanced archer, you will ask yourself how you can get even better now. You might be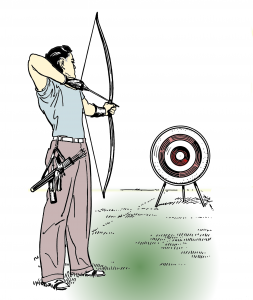 stuck at a point where you don't see much improvement anymore.
You remember the "good old days" when you went from bloody beginner to a decent archer within a few months and felt that you got better with every session.
How things have changed!
This is the time where you should consider to invest in some competitive archery equipment that will boost your chances to win.
If you want to have the elating feeling of hitting bull's eye more often, then you came to the right place.
Choose A Professional Sight
Most archers start with a pin sight as they are usually cheaper than other sights. There is nothing wrong with that, but they are somewhat limited in their functionality.
You can have only a few pins in your pin sight to adjust it to the targeted distances. When you run out of pins you will have to estimate how much higher or lower you have to aim to hit the target.
In the following, I will explain to you why you might want to switch to a target sight with a scope.
Target Sight
The big advantage of a target sight is, that you can adjust it much more precisely than a pin sight. There are several detents that will make sure that you position the sight properly.
The pin sight however only has a very limited range of possible adjustments that makes it less competitive compared to the target sight.
Archery Scope
Usually, we know the term "scope" from guns but we use them in archery, too
The archery scope gets attached to the target sight. The scope is not used to "zoom in" on distant targets, but it is a very precise tool for getting a better aim at your target.
Stabilizers
Some archers already use them right from the start, but if you haven't then stabilizers should definitely be part of your archery equipment. As the name suggests, stabilizers help you to keep the bow more stable and in balance.
They reduce unwanted horizontal and vertical movements of the bow and make it easier to shoot more consistently.
We usually use a combination of a long rod and reverse stabilizers.
All Olympic archers use those and they can make the small difference between winning and losing in a tight competition.
I will explain the functionality of stabilizers in more detail in another article. Here I just want to make a short list of competitive archery equipment you should consider buying if you want to move one step forward.
Arrow Types
Have you ever thought about the arrows you use? Did you just get the next best/cheapest arrow and didn't inform yourself about the arrow spine?
While this isn't a problem for hobby archers, it can be one for people who want to improve their shooting or want to be competitive archers.
The arrow spine basically says how much an arrow bends. The stiffer the arrow, the heavier the draw weight of your bow should be. This can be crucial for your success in target shooting. To find out which arrow spine is best for you, you can use charts, a test kit or just shoot an arrow a few times to see if you can achieve a satisfying precision with it.
The material is important, too. As a target archer, you will shoot at longer distances and will need a lighter arrow for that purpose.
Carbon arrows would be your best, as they are the lightest arrows but still have a great durability, compared to wood arrows.
A bow hunter would most likely choose a heavier arrow that can penetrate the game better. They usually use aluminum or fiberglass arrows.
What's Left To Say?
Even the best competitive archery equipment can not make you the next Robin Hood if you don't practice regularly. Practice is the most important thing in archery.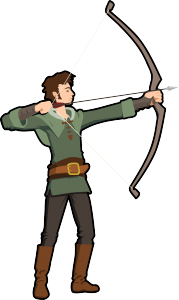 On a site note, I have to say that you can be an outstanding archer without all this equipment. I still love shooting with a traditional long bow without any equipment but I have fun with both types of archery. Most people will decide at one point which way they want to go, but I want to remind you that we are all here in this sport to have fun.
Respect each other and don't think bad of someone because he is not a "true archer" in your eyes.
We are all a big archery family!
If you have any questions or want to discuss with me and other readers this topic, please leave a comment below and I will come back to you. If you are just getting started check out my getting started guide here.
See you soon,
Moritz