Want to know now what it is like to go bowfishing with a compound bow? 
It's is pure awesomeness and so much fun!
Read the lines below to get to know the best compound bow for bowfishing you can get for your money:
---
Hey, this is Moritz.
I have been a huge fan of bowfishing for quite a while and want to share a bow I just discovered with you.
Want to get started with some serious bowfishing action?
Let's go!
---
What Does Your Compound Bow Need For Fishing?
In general, it is very similar to fishing with a recurve bow, of course.
If you want to go bowfishing, the minimum requirement would be a fishing line that gets attached to your arrow.
This will enable you to bring fish in you hit with the arrow.
It is even better when your compound bow features a reel which makes getting the fish on your boat or on land much easier.
But it's not only the special equipment on your bow you need but special arrows, too.
Common arrows would not be able to hold on to a fighting fish so you need arrows with special barbs like the carp points.
I have found a great compound bow that has everything you need to get started with bowfishing included:
---
The SwampIt Bowfishing Compound Bow Package
This compound bow was made especially for bowfishing. And I am not talking about small fish here.
It is the perfect tool for when you are about to hunt big fish.
Here are the specifications of the bow and package in short:
Right/Left Hand Available
40 – 50 LBS Draw Weight
15″ – 30″ Draw Length
20% Let-Off
35,5″ Bow Length
Dual Cam Bow
AMS Retriever Pro Series Reel
200 lb Fishing Line
AMS Tidal Wave Arrow Rest
AMS Safety Slide Kit
1 Fiberglass arrow
---
Let's Talk About The Compound Bow
I absolutely love that this bow is available for right and left handers.
Too many manufacturers only cater the right-handed archer, forgetting that there are many archers out there who are left handed.
With 40 to 50 LBS draw weight you can hunt big and small fish. The 20% let-off makes it easier to draw and hold the bow for a while.
What really stands out is how smooth the draw and release of the SwampIt Compound Bow is.
You will have a great time using this bow.
The draw length can be adjusted between 15″ to 30″ so no matter how short or tall you are, this bow will fit.
With only 3.5 lb the bow is very light-weight and its stainless steel will withstand the rough conditions it is exposed to when bowfishing.
The bow is great!
But how about the additional equipment?
What is a "retriever reel" or a "safety slide kit"?
Keep reading to learn all about the tools that make the SwampIt Compound Bow the best compound bow for bowfishing:
---
The AMS Retriever Pro Series Reel
Instead of a spool, this reel uses a bottle to store the fishing line inside. The line itself is a 25 yard long 200 lb dacron line. Thanks to its orange color it is also highly visible.
One advantage of a reel that uses a bottle is, that the line will fly out as fast as the arrow can fly. It will not slow it down at all.
The reel is very easy to mount if you should want to use it with another bow one day.
Before shooting you don't need to press any button, but can just draw, aim and let the arrow fly.
To retrieve the line, you need to pull a trigger and then turn the handle.
---
The AMS Safety Slide Kit
They don't look like anything special but will make your bowfishing experience safer and more comfortable.
The purpose of those small tools is, that your fishing line doesn't get

entangled with your bowstring which could cause accidents with serious injuries.
Imagine the fishing line ties itself to the bowstring and causes it to snap back, with the arrow attached. You or someone close to you could get hit by the arrow.
The Safety Slide Kit prevents that from happening, additionally, it stops the arrow from shooting completely through a fish.
I think it's great that one of these kits is already included in this package, so you can see how they work and then get more if needed.
---
AMS Tidal Wave Arrow Rest
Once you have tried a rest like the Tidal Wave Arrow Rest, you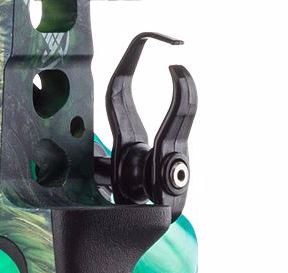 don't want to miss it anymore.
It is perfect when you shoot under conditions where it is difficult to stand still all the time, like on a boat or when moving a lot.
This arrow rest will make sure that your arrow will not fall off, once you have loaded your bow with it.
The rest encloses the arrow almost completely.
---
Final Thoughts About The Bowfishing Compound Bow Package
It is a fantastic bow, hands down!
I love that you can choose between a right handed and left handed bow and the reel and fishing line will do a great job to pull the fish in after a hit.
Still, if you want a similar experience for a little bit less money, you can give the recurve bow for bowfishing a try.
If you want to go bowfishing with a compound bow, though, then this is the one you should get!
What do you thing about this compound bow and bowfishing in general?
Have you ever tried bowfishing?
Leave me a comment and I would love to discuss everything about his great outdoor activity with you.
Talk to you soon!
Moritz