Do you want heavy and accurate arrows?
Are you on a low budget but still want quality?
Your best option is aluminum arrows then.
Read on to learn more about the best aluminum arrows for hunting or target shooting.
---
Hi, Moritz here.
I absolutely feel the pain when just starting with archery. It is really expensive.
You need a bow, arrows, a target, additional equipment, …
This can easily reach a thousand USD or more.
That's why I want to help you to save some money on the arrows without any negative impact.
Aluminum arrows are great to get started with. Especially if you are planning to hunt!
Read on to find out why:
---
The Most Common Arrow Types
Before we get into it, I want to give you a quick overview of materials (in alphabetical order) that are used to make arrows:
Those are the most commonly used ones and I want to show you which arrow is best for which situation.
To read about the other materials, please click on the links above.
Click Here To Jump Straight To My Recommended Arrows
---
Main Specifications Of An Aluminum Arrow
Most important:
Aluminum arrows are heavy!
They are the heaviest standard arrow you can get.
Is a heavy arrow something bad?
No, not at all. In fact, it can be the complete opposite. It all depends on what you want to achieve.
Besides being heavy, aluminum arrows are very straight and accurate.
Their biggest downside is that they bend much easier than carbon arrows. You need to be extra careful when you pull them out of a target.
Also, when you hit an aluminum arrow with another arrow, you might damage it much more than you would when using a carbon arrow.
You can straighten them to a certain point, but when getting bent too much, they will be beyond repair.
A big plus is, that aluminum arrows are cheaper than carbon arrows.
So, when you are just getting started, but want to shoot with heavy arrows, aluminum arrows are for you.
Keep reading to find out why a heavy arrow can be a very good thing: 
---
The Pros Of An Aluminum Arrow
Being heavy means that the arrow can store more energy because of its high mass.
This is very important if you are shooting with a high draw weight. Arrows that are too light and can't withstand much energy can shatter when trying to shoot with them.
The high weight of the arrow makes them very accurate because they don't get affected that much by windy and rainy conditions.
They also reduce hand shock, because most of the energy stored in the bowstring gets absorbed by the arrow.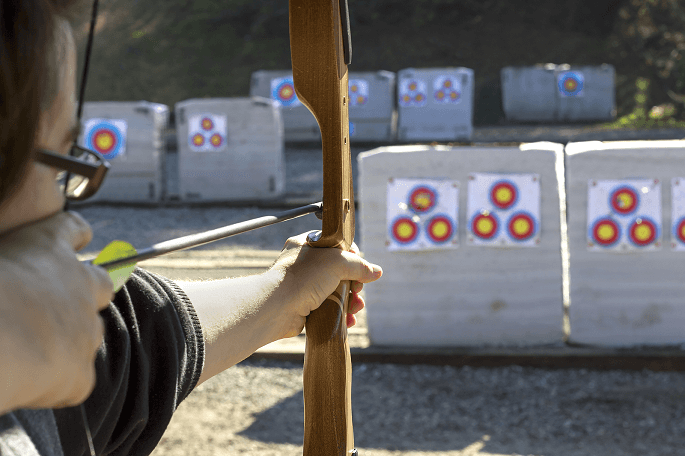 ---
The Cons Of An Aluminum Arrow
Aluminum arrows have a bigger diameter than carbon arrows.
This and the higher weight makes them slower than carbon arrows.
Some will argue that they don't penetrate a target as well as a carbon arrow, but others will claim the opposite.
It's a fact, that the diameter is not the only factor influencing the penetration.
It is weight, speed, distance and the arrow tip that will make the penetration higher or lower.
A heavy arrow has a high potential on a shorter distance because it will still be fast enough to cut deep into the skin and flesh.
The higher the distance the higher the decrease of speed.
So I would only get an aluminum arrow for hunting when you know that you will shoot on shorter distances and have enough time to get close to the game.
I already mentioned that aluminum arrows bend easier than carbon arrows.
You want to be very careful when removing them from a target or an animal's body.
---
How To Choose The Correct Aluminum Arrow
You have to know the correct spine size you need for your bow's draw weight.
Take a look at my short list below (for an arrow length of 28″):
18 LBS – 23 LBS: 1516
24 LBS – 27 LBS: 1616
28 LBS – 33 LBS: 1716
34 LBS – 42 LBS: 1816
43 LBS – 52 LBS: 1916
53 LBS – 60 LBS: 2016
61 LBS – 70 LBS: 2117
71 LBS – 80 LBS: 2216
81 LBS – 100 LBS: 2219+
If your arrow has the length of 30″ just jump one spine number up. If it is 32″ long, jump up two numbers.
Do the opposite if you are using shorter arrows:
For 26″ long arrows, you go one spine number down, for 24″ arrows two numbers down.
---
My personal opinion on aluminum arrows
I really prefer carbon arrows, but aluminum arrows are fine when you are on a smaller budget.
They are very nice for getting used to archery.
Aluminum arrows are very accurate which is great for beginners who will get more joy from hitting their target more consistently.
Check out my favorite aluminum arrows:

---
Easton XX75 Camo Hunter
Definitely one of the best aluminum arrows for hunting.
Their big size (2117 – 2413) makes them perfect for heavy hunting bows.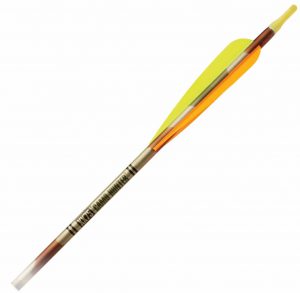 They are super straight and you can easily equip them with sharp broadheads.
Please note that all Easton arrows come at full length (32″) and you need to cut them down to the correct size.
If you don't have the equipment to do that, you need to bring your arrows to the next archery shop to let them do it for you.
Aluminum inserts are included, but you will have to buy arrow tips separately.
---
Carbon Express Game Slayer

The Game Slayer Aluminum Arrows are best for target practice but can be used to hunt smaller game, too.
Just make sure that you don't hit anything that is very hard (like a tree).
Like explained above, aluminum arrows bend much easier than carbon arrows.
Nevertheless, the Game Slayer arrows are great when handled with care and responsibility and their price is fantastic.
They come fletched (with feathers) and the insert for the arrow tip is included, too.
All you need to buy additionally are arrow tips.
---
Conclusion: Aluminum Arrows Are A Viable Choice
While carbon arrows are my favorite arrows, you won't go wrong with these aluminum arrows.
The Easton XX75 Camo Hunter arrows are great for hunting.
The Game Slayer Aluminum arrows are best for target practice.
I have tried them both and the results were absolutely satisfying!
Let's discuss the different arrow types below in the comment section and don't forget to tell me what arrows you are shooting with.
Do you agree with me that these are the best aluminum arrows for hunting or target shooting?
Happy hunting!
Moritz