Name: 150 Hunting Crossbow With Scope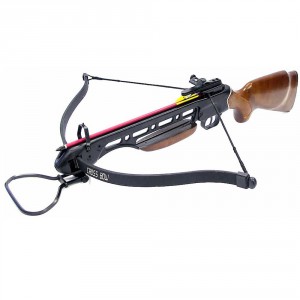 Materials Used: Fiberglass and Aluminum
Draw Weight: 150 lbs
Crossbow Length: 34″
Crossbow Width: 26″
Crossbow Body Weight: 5 lb 7oz
Limb Length: 27″
Initial Speed of Arrow: 210 Feet Per Second
Specialty: Auto Safety Cocking Mechanism
Best Place to Buy: Amazon.com
My Rating: 9 out of 10
The 150 Crossbow With Scope – Overview
This crossbow from Wizard is perfect for people who are just starting with crossbow shooting or are on a small budget.
It is strong enough to hunt small and big game, but makes a great crossbow for backyard shooting, too.
You can choose between 4 different colors: wood, black, brown desert camo and green autumn camo.
Please be aware of the fact that you have to cock this crossbow manually with a rope (or with your hands) as there is no crank included.
But together with the foot claw, this is an easy enough task.
What You Get
When you buy the 150 LBS Hunting Crossbow this is what will be included:
1 x 150 LBS Hunting Crossbow with 6 Aluminum Arrows (14″ Body, 8mm, 14.75″ Total Length)
1 x Crossbow String
1 x Footclaw
1 x Crossbow Limb
1 x 4×20 Crossbow Scope
6 x 14″ Bolts/Arrows (aluminum arrows)
One of the highlights is definitely the scope! It will improve your aiming a lot and it is just way more fun to shoot with a decent scope.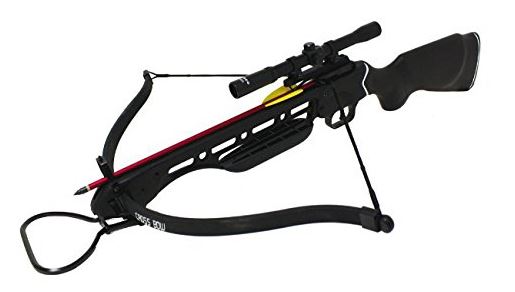 More Facts About This Crossbow
This crossbow comes ready to shoot.
All you will need is a target.
If you notice that the bow is too difficult to cock (pull the string back), you should get a rope cocking device.
With a cocking rope, you reduce the weight you have to pull back by 50%.
The limbs are made of high-tech fiberglass while the barrel is made of aluminum.
The crossbow is very durable and will bring you a lot of fun for many years and shots to come.
The 150 LBS Hunting Crossbow has a great accuracy for up to 60 yards.
The initial speed of your fired bolt is up to 210 FPS.

How To Use The 150 LBS Hunting Crossbow
If this is your first crossbow, you will have to learn how to cock it correctly.
The safest way is to do that with a cocking rope. If you do it with your bare hands, you could hurt yourself if it gets too heavy.
You also could damage the crossbow, if you don't pull the string back evenly.
I absolutely love that this crossbow features an auto safety cocking mechanism.
This means that the safety switch will jump to safe as soon as you have pulled the string back far enough. You will hear two clicks.
You can't accidentally forget to turn the switch to safe.
Once your crossbow is cocked you load it with an arrow (included in the set) and then you just aim through the scope like you would when shooting a rifle.
It's that easy.
Crossbows have only very little recoil, compared to guns, so your accuracy should be pretty good, even if you are new to crossbow shooting.
Watch this detailed review of the 150 LBS Hunting Crossbow:
Get Some Additional Accessories
This crossbow starter package is great as is.
Still, there are a few things that will make your life easier and will make sure your new crossbow will stay in a good condition for a long time.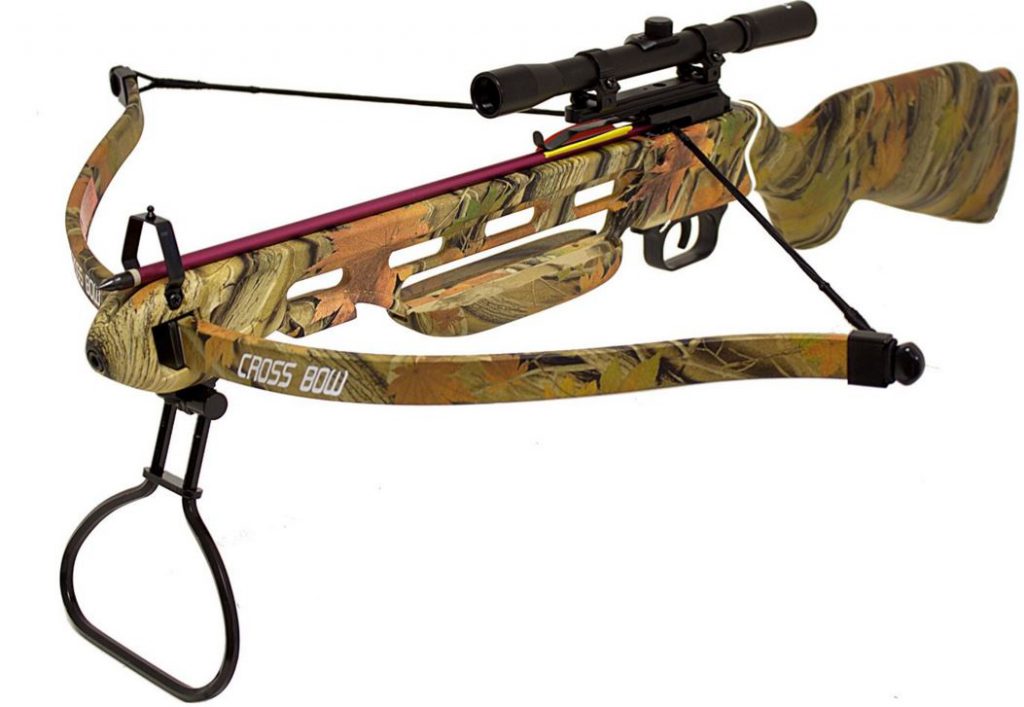 Final Thoughts And Conclusion
You won't get more crossbow for this price!
The 150 LBS Hunting Crossbow is the best crossbow for beginners who would like to hunt with a crossbow.
If treated right it can be your reliable hunting partner for many years.
Even if you are not planning to hunt you can use this crossbow in your backyard (provided you take care of security measures).
I love that it even has a scope for such a small price. What more could you possibly ask for?
I am looking forward to your thoughts and experiences with this great crossbow.
Let me know when you got one and how you feel about it.
If you have any other question about this or other crossbows, please let me know in the comments below and I will come back to you very soon.
Enjoy your crossbow!
All the best
Moritz