There is hardly something more annoying than being unable to see your target clearly when shooting with a bow.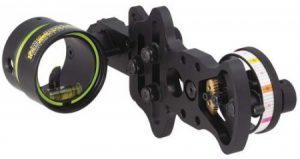 Multiple pin bow sights have their advantages, but single pin bow sights are even better!
If you have never shot with one you should read this article about the best single pin bow sight!
---
Hi, I am Moritz and for the longest time, I have been shooting with a 5-pin bow sight.
It was recommended by my trainer and so I thought it would be the best option for me.
My trainer was not completely wrong.
That sight was great but I often struggled with it and couldn't see the target clearly.
That's when I decided to try a single pin bow sight and I fell in love with it immediately.
Read on to find out which sight I am using now:
---
Before I get into the details, here is a quick overview:
Name: HHA Optimizer Lite Ultra Sight – DS-5019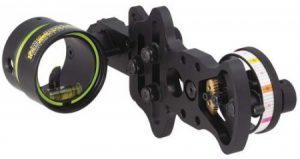 Pins: 1
Speciality: Yardage Dial
Availability: Right Hand and Left Hand
Best Place to Buy:  Amazon.com
My Rating: 9.5 out of 10
---
The Single Pin Bow Sight That Will Change How You Aim Forever
There are many single pin bow sights out there but only a few can provide you with the same accuracy and quality as the sight I am going to introduce to you today.
It is easy to sight in and once you have sighted it in correctly, it is extremely easy to adjust it to the distance you are aiming at in that moment.
All you have to do is to turn the dial.
---
Why Would I Choose A Single Pin Sight Over A 5 Pin Sight?
Only a few days ago I told you about the Trophy Ridge React 5 Pin Bow Sight, which is a fantastic 5 pin bow sight.
The thing is, that quite many archers don't like to have too many pins in one sight.
It can be distracting to a point where the archer just can't hit the target anymore.
Simple single pin sights have the problem, that they are only sighted in on one set distance. Whenever you shoot on a shorter or longer distance, you will have to aim lower or higher than the pin tells you.
This makes it way more difficult to hit your target if you don't have a lot experience.
Now, the Optimizer Lite Ultra Sight
 solves this problem with great style.
The yardage dial lets you adjust the pin to whatever distance your target is away from you.
All you have to do is to set it up correctly once, which is easy enough when you follow the instructions that come with the sight.
From that moment on, it is incredibly easy to calibrate the pin to the desired distance.
---
My Quick Rundown Of The Facts
Fiber Optic Single Pin
CNC Machined Aluminum
Yardage Dial To Adjust Pin Easily
Easy To Set Up And Sight In
Brightness Of The Pin Is Adjustable
Green Sight Ring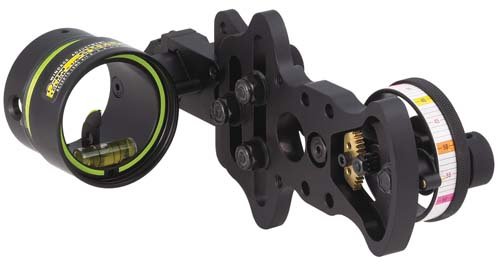 ---
Pros and Cons of the Optimizer Lite Ultra Sight
While this is one of the best single pin bow sights, it has a small issue:
Difficult To Combine With Bow Quiver
The sight can be difficult to combine with several bow quivers, so it is best to use a side or back quiver.
There are some quivers, however, that can be used in combination with this sight.
So be careful, if you want to use a bow quiver.
Here a short list of the pros:
Yardage Dial
Fiber Optic Pin
Adjustable Brightness Of The Pin
Very Light But Robust
What I personally like the most about the Optimizer Lite Ultra Sight
 is the yardage dial. It is so easy to adjust the sight to any distance.
No need to aim higher or lower anymore.
---
Conclusion: The Optimizer Lite Ultra Sight Is Awesome!
This sight is the best out of all single pin bow sights I have tried so far.
You will thank me when you follow my advice and get it here for the best price.
It will be your true friend when you go out to hunt or let your arrows fly on an archery range.
Like I mentioned the Optimizer Lite Ultra Sight is my favorite single pin sight as of now.
Let me know in the comments if you have any concerns or questions about this bow sight.
I will be happy to assist you in any way I can.
Have a great day and happy hunting!
Yours,
Moritz