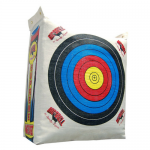 "Every target I have tried just couldn't withstand my 50 LBS longbow for long! 
What should I do?"
Are you tired of targets that have to be replaced after only a few hundred shots?
If your answer is yes, I have a solution for you:
---
Hey, I am Moritz and I know very well what it feels like to go through many archery targets every year.
Every backyard archer needs a target, but many affordable targets are not suitable for high draw weights.
In this article, I am introducing the Morrel Supreme Range Field Point Archery Bag Target. It is the perfect choice for every archer, beginner or professional.
No matter how high your draw weight is, this target will stop your arrows!
---
A Quick Overview 
Name: Morrell Supreme Range Field Point Archery Bag Target
Target Type: Bag Target
Dimensions: 29″ x 31″ x 14″
Weight: 50 lb
Maximum Draw Weight: Anything you can draw
Arrow Tips: Target or Field Tips (NO Broadheads!)
Specialty: Nucleus Center for Maximum Stopping Power
Waterproof: Yes
Best Place To Buy: Amazon.com
---
The Target That Stops The Fastest Arrow
This target is designed to stop arrows or even crossbow bolts, no matter what draw weight is being used.
Thanks to the Nucleus Center and the tough surface of the target, it can last for many years, without showing any wear. The great reviews on Amazon are a proof of that!
IMPORTANT: Do not use with broadhead arrows!
I will say this quite a few times because it is so important. Broadhead arrows will get stuck in the target and you won't be able to get them out anymore. Additionally, they will rip holes into the target which will reduce the lifespan of your target.
If you are shooting with broadhead arrows, please take a look at the Rinehart 18, which was specially made for that kind of arrows.
---
Let's Take A Closer Look At The Advantages Of This Bag Target
Using a bag target like this here has several advantages:
Can be used as a standing or hanging target
Adjust difficulty by turning it
Prolong the lifespan by shooting on different sides
Easy to transport
Easy to fix (it will last for years, even without fixing)
Multi-layered design (I explain in detail below)
100% Waterproof
Standing Or Hanging Target?
The Morrell Supreme Range Target has grommets on which it can be hung easily. It also can be used as a standing target, though. Thanks to its rather high weight of 50 pounds, it won't fall over easily.
This gives you many different options and ways of using this bag target. I am a big fan of its diversity!
The great thing about this is, that you even can save some money. You don't necessarily have to buy a target stand and just can start using it without one!
Adjust The Difficulty By Simply Turning It
A bag target can be shot at from all sides. Its front and back are displaying different kinds of targets. The front has a big classic target printed on it.
The back has four smaller targets on it, so you can use this for fine tuning your archery skills or for competitions with friends and family.
This makes it even more fun and varied than traditional targets.
Turning the target from time to time will obviously expand its already long lifespan even more.
Super Easy To Transport
Alright, with 50 pounds, it is a quite heavy target. Despite its weight, it is still much easier to transport than many other targets with the same stopping power! It fits easily in the trunk of your car and you should be able to carry it around to other positions in your yard without any problems as well.
Easy To Fix
Many targets just can't be fixed without deeper knowledge, once they have been ripped apart by your arrows.
This target, however, can be fixed much easier.
First of all, I have to make clear, that the Morrell Supreme Range Bag Target won't need fixing for many years if you treat it responsibly.
Don't shoot at it with broadhead arrows, and you will enjoy it for a long time!
But if the target has been worn down after a few years, and you notice that the insides start coming out, just get a new cover for it and extend its life for some additional years!
The Multi-Layered Design Is Worth Gold!
Multi-Layered targets have huge advantages! Inside the sturdy and strong cover, self-healing foam layers are put over each other.
Those layers are not glued together, so an entering arrow will pass between them, without really cutting them.
Thanks to the friction between the arrow and the layers, the arrow gets slowed down quickly.
For those arrows that come with more punch, the Nucleus Center will assure, that now arrow gets through.
The layers of the target are made of a special foam that "heals" itself. This special technology, combined with the tough cover ensures, that the target will last for many years, even when used daily!
Remember: Don't ever use broadhead arrows on it! (I told you I would mention this many times.)
I am sure you see and understand now why I am such a big fan of this target.
---
Why Should You Get A Target With Strong Stopping Power?
Backyard archery is a lot of fun but also can be very dangerous. While most targets can stop arrows from a bow with less than 40 LBS draw weight, they struggle with higher draw weights.
Now, if you are planning to shoot with a compound bow or a much stronger crossbow, you have to ensure that everyone stays safe!
To be as safe as possible, get yourself the Morrel Supreme Range Field Point Archery Bag Target.
---
Improve Your Accuracy With This Fantastic Target
As I mentioned before, the target features different kinds of targets.
The front has a big target, the back four smaller targets. This is a great way to work on your archery skills and accuracy. Additionally, the target is easy to move to other positions, so you can challenge your way in many different ways.
Move the target closer or further back. Put it on an elevated platform or partially hide it in bushes to simulate hunting scenarios.
There are so many things you can think of to make your archery practice even more fun and exciting.
---
My Final Verdict And Rating Of The Morrel Supreme Range Target
If I had to give it a rating, it would be a 9 out of 10!
Why only 9, you might ask.
Especially when new, it might be too tough for bows with a lower draw weight. If you are having a young archer with a draw weight below 20 LBS, it might be, that the arrows won't be able to penetrate the target in the beginning.
Don't worry, though, once the target has been used for a bit, this will not be a problem anymore.
If you feel that the target is too tough, you can knead it a bit to make it easier for your young archer.
Other than that, there is nothing negative I can find about this fantastic target.
It has extremely high stopping power!
It lasts for years if you don't use broadhead arrows on it!
It won't fall over easily, even when you are shooting with strong bows and crossbows.
It can be used as a standing or hanging target.
All this makes the Morrel Supreme Range Target my number 1 choice!
And it should be yours, too!
---
What Is Your Favorite Target?
I have been talking about my favorite target now for quite a bit.
Now, I want to know if you have your own favorite target!
Are you in love with the Morrell Supreme Range Field Point Archery Bag Target as much as I am?
Let me know in the comments below and I will get back to you as fast as I can.
Of course, you can leave any question you might have there, too, and I will be happy to answer them for you.
Happy shooting,
Moritz