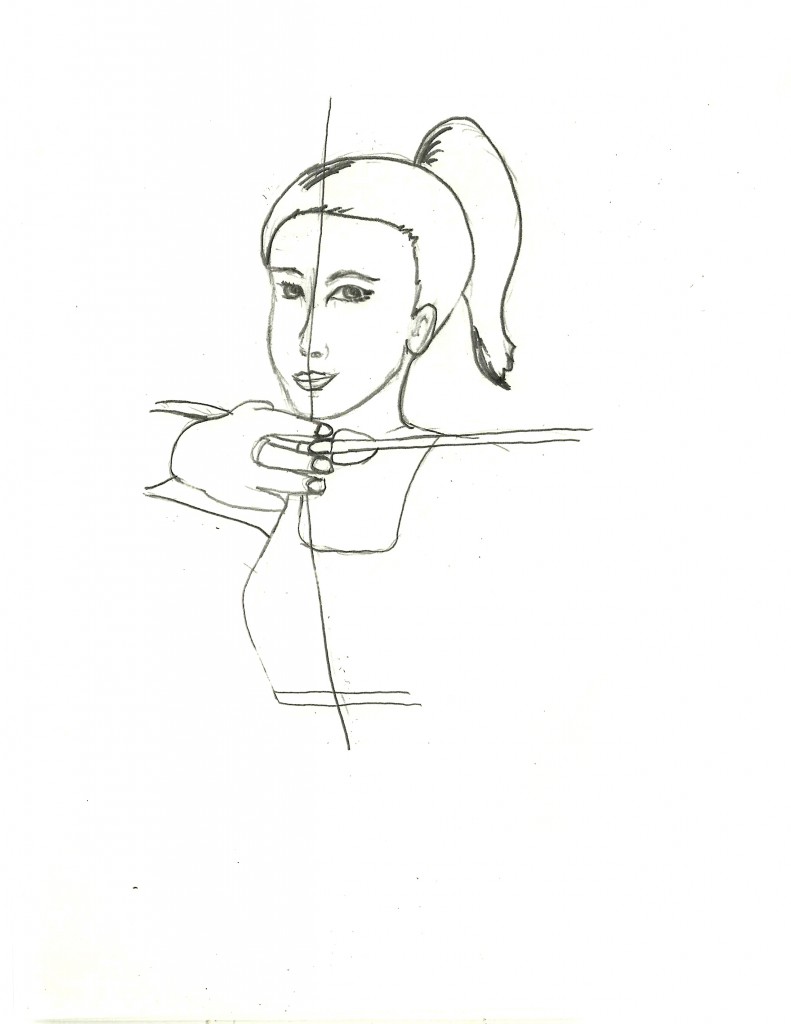 After you have fully drawn your bow, it is time to find your anchor point.
Let me explain you what an anchor is and how you find it:
The Definition of Anchor Point
I taught you in the previous lesson how to draw a bow correctly. I told you that you are finished with drawing the bow when your hand reaches your face.
If you now would just let the arrow fly your hand would be very shaky, because it isn't anchored.
To be anchored means that your hand has a place to cling to, to avoid shaking and to be steady.
It also means that your hand will always be at the same spot before you let your arrow fly.
This is great for improving your shooting, as you can correct mistakes more easily when you always follow the exact same routine.
There are a few different types of anchors and I want to talk about the two most used anchors.
I am not planning to talk about the mechanical release in this lesson, because most beginners usually don't use one of those.
The Side Of Face Anchor and The Under Chin Anchor
The names of the anchors already let you guess what the main differences are between them, and I am going to explain them to you as detailed as possible, while still easy to understand.
The Side Of Face Anchor
Like the name suggest this anchor uses the side of your face as its anchor point.
Draw the bow back until you can touch the corner of you mouth with the tip of your index finger.
Your thumb should be tucked under your jaw to grant some extra stability and your whole hand touches the side of your face.
When you have done everything right, the bowstring will touch your nose.
While using this anchor, always keep your hand as flat as possible!
Remember that the hand and wrist have to stay as relaxed as possible, only the fingers that hold the string should be tensed.
This anchor gives you several touch points in your face.
Your fingers touch the corner of your mouth and your jaw, the bowstring touches your nose, while your hand touches the side of your face.
Those touch points are very important, because when you get used to them, you can always draw and anchor the exact same way and this will improve your accuracy a lot.
Like I said before, archery is all about getting a routine to wipe out mistakes and become a decent archer.
There are a few mistakes you can make while using this anchor:
Pluck the string
Dead Release
Plucking the string means that you move your hand away from your face before you release the arrow. This will undo everything you tried to achieve with your anchor and make your shots very inaccurate.
Don't move your hand away from your face!
A dead release means that you let your arrow fly too early,by opening your fingers actively and let the bowstring shoot forward. This is not how you release the bowstring!
I will explain how to release the string properly later in my training.
The Under Chin Anchor
I personally like and use this anchor, but this is a bit like the archery stances. You have to try and find out which suits you the best.
Don't let anyone tell you that one anchor is better than the other. It is up to you!
While we pulled the string to the side of our face for the side of face anchor, we now pull it straight to our face until the string touches our nose and chin.
Alternatively you can pull the string to the side of your nose so that it touches your chin and the corner of your mouth.
Either way you will place your draw hand under the chin and press it firmly against the jaw.
This is a very stable anchor and offers many touch points, too
An additional touch point can be gained by using a "kisser button". A kisser button is a a small button that gets attached to the bowstring and touches your mouth when your bow is fully drawn.
It can take a bit longer to set this anchor up, compared to the side of face anchor, but it offers a lot of stability.
Possible mistakes of this anchor are:
Move your head forward to meet the string

Draw the bowstring with the tips of your fingers

Have a cupped hand
Avoiding these mistakes is rather easy:
You have to concentrate on what you are doing. Always check that you are doing everything correctly.
It helps to have a checklist in your mind to make sure everything is as it should be.
Things to remember!
You have come to the end of one of the most important steps in my training.
You need to find your anchor point in archery to become a good archer. It will help you get a routine and by doing so improve your accuracy.
Remember that your body has to look like a T.
I know that I said this a few times now, but it is so important.
It is the easiest way to find the correct body posture for archery.
Also remember how to hook the bowstring correctly and keep your hand flat.
Don't forget to leave a comment below if you have any questions or want to discuss anchor points or achery in general with me.
In the next lesson you will learn how to transfer the draw weight to your back muscles.
I am looking forward to hearing from you.
Yours,
Moritz
>> Next Step: Transfer The Draw Weight To Your Back Muscles
<< Previous Step: How To Draw A Bow Correctly