Are You Looking for a great crossbow for hunting but don't have thousands of dollars to get a TenPoint crossbow?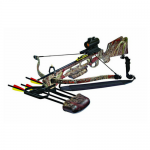 The Arrow Precision Inferno Fury Crossbow Kit is just what you need!
It is a recurve crossbow with 175 LBS draw weight.This is more than enough to bring down any small or big game that you are allowed to hunt.
This is more than enough to bring down any small or big game that you are allowed to hunt.
---
Hey there. I am Moritz and I came a long way from traditional archery to crossbow shooting.
(My love for bows is still unmatched!)
Even though I love traditional bows, I have to admit that crossbows have that special something.
They are extremely strong and accurate. If you can fire a gun, you won't have big problems with a crossbow.
But crossbows have a few advantages over guns and rifles.
Read more below about crossbows like the Fury Crossbow:
---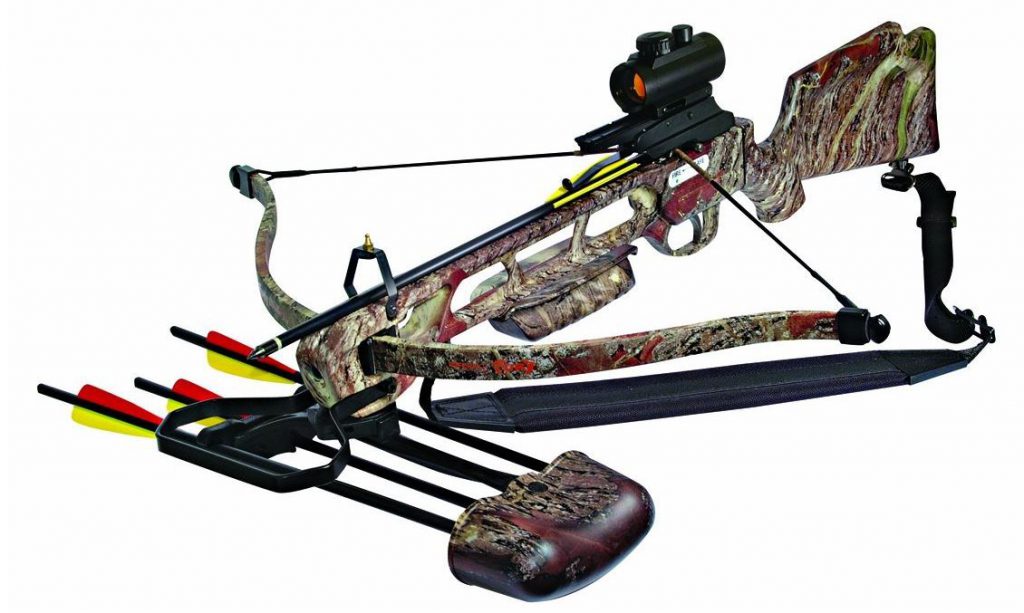 ---
The Inferno Fury Crossbow Package
Name: Arrow Precision Inferno Fury Crossbow
Type: Recurve Crossbow
Draw Weight: 175 LBS
Power Stroke: 10.5″
Arrow Speed: 235 FPS
Crossbow Weight: 5.58 lb
Color: Camo
Length: 34.5″
Width: 26.5″
Materials: Aluminum, Fiberglass
Crossbow Sight: Yes
Crossbow Quiver: Yes
Specialty: Ambidextrous Auto Safety + Rear Stock
Cocking Device: Cocking Rope
Arrows/Bolts: 4x
Shoulder Sling: Yes
Cheapest Place To Buy: Amazon.com
That is an impressive list! You get a lot of crossbow for such a small price.
Read on when you want to know more before you get this fantastic hunting partner:
---
The Inferno Fury Crossbow In Detail
Let's go over the points I listed above:
Advantages  of a Recurve Crossbow
Many modern crossbows use cams (or pulleys) like compound bows.
A recurve crossbow is more traditional and therefore more appealing to some hunters.
Having a recurve crossbow can be a great advantage because you don't have to worry about the quality of the cams. It is also less complicated to replace the string of a recurve crossbow.
Remember, the more complicated something is and the more gimmicks something has, the more can break.
I often prefer simple things for their effectiveness and easier handling.
A recurve bow has a small disadvantage, though:
It needs higher draw weights to get similar arrow accelerations.
Other than that, it can compete with compound crossbows without a problem.
Draw Weight, Power Stroke, and Arrow Speed
As I just mentioned, a recurve crossbow usually needs a bit higher draw weight.
The 175 LBS draw weight makes this crossbow really powerful.
The combination of the draw weight and a power stroke of 10.5″ accelerates the arrows to a maximum of 235 FPS.
True, crossbows like the Barnett Jackal or TenPoint Crossbows are much faster, but you will also pay much for those crossbows.
You will have no difficulty taking down big game with this crossbow!
Crossbow Weight: Extremely easy to carry!
This is a huge plus!
The weight of this crossbow is only 5.59 lb!
Many crossbows start with over 7 lb and can easily have a weight of 9 lb, too.
You really have to consider the weight of your crossbow carefully.
Nothing can be more annoying than a bow that weighs you down when moving through the bushes to find your prey.
The weight is really important then.
The Crossbow Sight for highest accuracy
The sight that comes with this crossbow package is a high quality 3 red dot sight.
Having three dots in your sight is great because this allows you to use it just a multiple pin sight.
Depending on the distance to your target you can choose between your dots, which makes hitting your target much easier.
It is just like pointing a gun with a quality sight at your target.
The Crossbow Quiver: Quick access to your bolts
The quiver here is a quick detach quiver which has room for 4 arrows.
It gets attached under the crossbow and gives you quick access to your arrows.
No need for a quiver on your hip or back that would make it harder to move through a dense forest.
Awesome!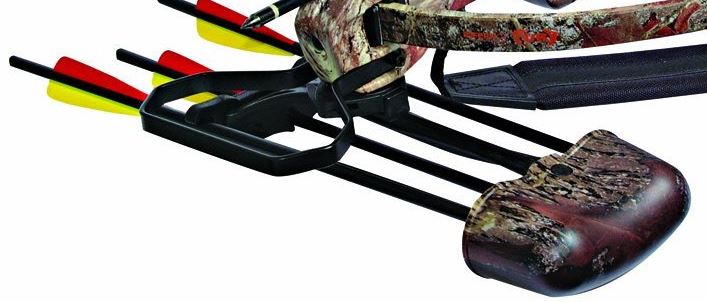 An Ambidextrous Crossbow: A real rarity!
I absolutely love this!
While most crossbows can be shot no matter whether you are right-handed or left-handed, it can be inconvenient to shoot one that is not designed in a smart way.
A crossbow that is strictly made for right-handed shooters will feel uncomfortable for a left-handed shooter.
The Inferno Fury Crossbow is ambidextrous, so it will work perfectly well no matter which hand is your dominant one.
Both the safety switch and the rear stock are designed to fit both sorts of shooters.
Additional Equipment: All you need to get started
In the package is a cocking rope, 4 arrows and a shoulder sling included.
With a cocking rope, you reduce the force you need to pull back the string to load the crossbow by 50%.
It is possible to cock this crossbow by hand, but I would always use the cocking rope.
It is fast, efficient and so much easier.
The crossbow comes ready to shoot, so it already includes 4 arrows.
They are 16″ long aluminum arrows (125 grain) and have a 100-grain tip.
If you want to hunt big game, you will need to replace the tips with some broadheads.
Having a shoulder sling is great.
It can get tiring when you are walking for a longer time, and always have to hold the crossbow in your hands (even though it is so light weight).
The shoulder sling will make this much easier.
I am sure you will learn to appreciate it quickly.
---
Conclusion: I Love The Fury Crossbow Kit
What we have here with the Arrow Precision Inferno Fury Crossbow Kit is everything you need for crossbow hunting.
It is extremely light weighted, but with 175 LBS draw weight very powerful.
The arrows leave the crossbow with 235 FPS.
All you need is included in the package!
I love the camo look of it, as well as the whole design.
At its very affordable price, this crossbow package is perfect!
You won't get anything comparable at a lower price.
No chance!
I promise that you will absolutely love this recurve crossbow!
Best,
Moritz