Searching for the best compound bow set for the money? Look no further.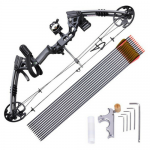 Too many bows don't come with proper equipment and you have to pay a fortune before you can even use it.
It doesn't have to be like this. There is a bow that comes with a fair price AND all the equipment and attachments you need to get started right away.
---
Hey. It's Moritz.
I have a long history in archery and love sharing what I have learned and experienced.
A friend of mine was looking for a compound bow set. So I went out to find the best bow for him!
Here's what he got now:
I present you the AW Pro Compound Bow Kit Archery Set: 
---
Quick Facts About The 
AW Pro Compound Bow Kit Archery Set
Name: AW Pro Compound Bow Kit 

Bow Type: Compound Bow
Draw Weight: 20 – 70 LBS
Draw Length: 17″ – 29″
Bow Weight: 3.6 lb (without attachments)
Bow Length: 30″
Let-Off: 80%
Brace Height: 8″
Arrow Speed: up to 320 FPS
Available For: Right Hand Only
Colors: Black, Camo
Material: Aluminum alloy, fiberglass, carbon fiber
Set Includes: Bow Sight, Bow Quiver, Arrow Rest, D-Loop, Peep Sight, Wrist Sling, Stabilizer, String Silencer, Limb Dampener, Mechanical Release, String Wax, 12 Carbon Arrows
Best Place To Buy: Amazon.com
Getting a compound bow of this quality with loads of equipment at such a price (below $300!) is already a no-brainer for me.
In the following, I will go into some more detail, in case you want to know more to make up your mind.
---
A Closer Look At The AW Pro Compound Bow
The bow itself is already impressive! I would absolutely recommend it, even without the additional equipment.
Its draw weight can be adjusted from 20 – 70 LBS, which makes it a bow that can last your whole life. 20 LBS is perfect for young archers or beginners!
Once the archer gets older and more experienced, he can increase the draw weight to up to 70 LBS, which is more than enough to go hunting.
Paired with the adjustable draw length of 17″ – 29″ makes this bow a great all-rounder.
3.6 lb is still light enough to carry it on a long hunting trip and with 30″ bow length, it is easily maneuverable.
All these things are important to consider, before spending money on a compound bow set.
The high speed of 320 FPS is but a nice extra on top of an already fantastic bow.
Shooting it is a very smooth experience and the hand shock is kept to a minimum.
---
All The Attachments You Can Imagine Are Included
Let's get to the main reason why I am talking about this compound bow today:
There are many great compound bows out there, but I have to admit that they are not cheap. Especially if you want to have quality!
Even if you find a good and affordable bow, you will spend quite a few extra coins to be able to shoot it!
Most bows come without arrows or other attachments.
The AW Pro Compound Bow Set, however, has everything you need right from the start.
Let's take a closer look at what is included:
---
5-Pin Bow Sight, Arrow Rest, and Limb Dampener
The first two are absolute must-haves if you want to shoot with a bow. The latter is great to have.
The pins of the included 5-Pin Bow Sight can be
easily adjusted and are glowing in the dark. Even though the sight is not from a known brand, it is super effective and accurate.
Once sighted in, it does its job every single time.
The arrow rest holds your arrows well in place, so you don't have to worry about dropping the arrow once the bow is loaded.
The friction is kept to a minimum, so your arrows leave the bow on a high speed and the direction of the arrow does not get influenced by the arrow rest.
Limb dampeners, which lessen the vibrations of your compound bow, are handy attachments to have. They reduce the sound your bow makes when the arrow shoots forward and also stabilizes the bow.
---
Bow Quiver and Carbon Arrows
What would a bow be without arrows and a quiver? Pretty useless!
Luckily, both are included in this compound bow set.
The quiver is attached directly to the bow and holds up to 4 arrows. The arrows are made of carbon and are 30″ long.
---
D-Loop, Mechanical Release, Peep Sight, Wrist Sling, Stabilizer and String Silencer
Having these attachments is definitely a great plus! Most bows come with some, but definitely not with all of them.
A Mechanical Release makes letting the arrow fly much smoother and will improve your accuracy a lot. The D-Loop is needed to make the Mechanical Release do its job.
The combination of a bow sight and a peep sight is fantastic. The peep sight makes aiming through your bow sight much easier, once it has been adjusted correctly.
One of the most important steps in archery is the follow through. A Wrist Sling perfects this technique, as you can let the bow tilt forward without the danger of dropping it.
While not mandatory, it can help a lot to have a stabilizer installed. Stabilizers do what their name says and stabilize the bow during and after the shot.
I already mentioned the limb dampeners before. String Silencers add to the effect and make your bow even more quietly. Especially if you are planning to go hunting, you need a bow that is as quiet as possible!
---
Why I recommend the AWI Compound Bow Pro Set
A fully equipped bow is worth several hundreds of dollars.
Here you get a compound bow that is of a very high quality, but still below $300!
Let's quickly sum up the pros and cons of this beauty:
Cons:
Only Right Hand Available
No-Name Attachments
Pros:
High Quality
Durable
Affordable Price
Very adjustable (draw weight and draw length)
Comes With All Attachments You Need
Very Fast (320 FPS)
I honestly couldn't find any more cons than the above. It is really a pitty, that there is no version for left-handers at the moment. I do hope, that they will bring out one for you guys, too!
One of the reasons for the relatively low price is, that no-name products were used as attachments.
For some that might be a disadvantage, but I have to say that you really don't need to pay extra, just to have a fancy brand product!
Especially with this bow, you don't have to worry about the quality. It is absolutely great, as you can see from the reviews on Amazon.
The pros outweigh the cons by far, so if you are looking for a bow at the moment, grab it before it is gone!

---
Treat Your Bow Responsibly
The best bow is only as good as the archer!
Always remember this and you will have a great time with this compound bow. In order to be your best friend for many years to come, you have to keep it well maintained.
Never dry fire it (shoot without an arrow) and always keep the string waxed.
Luckily, there is even some string wax included in the set!
---
My Conclusion: The 
AW Pro Compound Bow Kit Rocks!
There you have it! I finally found the best compound bow set for the money!
The AW Pro Compound Bow Kit has everything you need to get started right away.
Just grab it and start shooting!
I couldn't be happier!
Now it's your turn!
What do you think about this compound bow?
Are you a new archer, or already well experienced?
Leave a comment below and I will get back to you quickly.
All the best
Moritz