When you think about bows you will notice that there are quite many different bow types. They range from very simplistic to futuristic and high-tech design.
To know which bow type suits you the best you need to understand the characteristics and attributes those bows have.
While there are more bow types, I want to discuss and explain the three most common ones.
Those are the (English) longbow, the recurve bow and the compound bow.
The Longbow
The longbow is a famous one. Everybody has heard of them if they are at least a bit interested in archery or in medieval history. The English longbow was a widely feared and respected weapon which was used effectively by English archers.
They were about 1,80 cm (6 ft) long and had draw weights between 100 lb and incredible 185 lb.
Nowadays longbows are still about 1,80 cm long, but hardly anyone is able to shoot a bow with 185 lb accurately. Longbows now have draw weights of up to 60 lb.
A beginner would start with a much lesser draw weight, though.
On a site note: draw weight is the force stored by an archery bow when fully drawn.
Imagine you want to shoot a bow that stores 180 foot-pounds! Most people will not be able to even draw this bow fully.
The longbow is of very simple design. It is basically one piece of wood with a string attached. It is relatively easily crafted in a short time.
It still needs practice and experience to make a good or professional longbow but compared to the other bow types, the longbow is the easiest one to make.
Traditional woods are yew, ash or elm. Other woods were and are used to craft a bow, too.
A longbow is mostly used for instinctive archery and therefore doesn't use sights usually. There might be an arrow rest carved into the wood to make shooting a bit easier.
I am a huge fan of the longbow as I am an equally huge fan of the medieval times.
If you share this interest, take a look at these longbow beauties.
The Recurve Bow
The two limbs of a recurve bow curve away from the archer when the bow is unstrung. The limbs store more energy when the bow is drawn, which makes the bow more powerful than a longbow with the same draw weight.
For this reason, a recurve bow can be much shorter than a longbow but will still have the same or even more power than the longer longbow. This makes a recurve bow more flexible and it can be used in areas where a longbow would hinder the archer in his movements, like in a forest or on horseback.
Modern recurve bows are usually "take down bows". Take down bows can be taken apart for easier transportation. Another advantage of a takedown is, that you can upgrade or change the draw weight by just getting stronger limbs for your bow.
Recurve bows can be set up with additional equipment like sights and stabilizers to improve the accuracy and performance of the bow. To read more about competitive archery equipment, check out my post here.
When I started with archery I used a recurve bow. I think most beginners will do this, too.
I still use a recurve bow now and then, even though I mostly shoot my longbow now.
But sometimes I just want to use a sight to make sure I don't forget how to use one. 😉
Recurve bows are used by professional/Olympic archers and are good for both target archery and hunting.
If you would like to get a recurve bow check out the SAS Courage Takedown Bow. It is great for beginners and advanced archers.
Or learn even more about recurve bows in my article The Best Recurve Bow For Beginners.
The Compound Bow
A compound bow's most prominent feature is the leverage system using cables and pulleys. It gives the bow a futuristic design which makes it stand out compared to the other bows.
The leverage system gives the compound bow a huge advantage over other bows regarding the strength of the bow. When you draw a compound bow it will be quite hard to do that in the beginning. As soon as you pulled the string back a bit the leverage system kicks in and it gets easier to draw.
When the compound bow is fully drawn the weight is held with the assistance of the pulleys. It is a breeze now to hold the bow drawn, which gives the archer more time to focus and aim at the target.
Compound bows like the PSE Stinger Compound Bow are very precise and can be shot with continuous accuracy by an experienced archer.
Like recurve bows, compound bows can be mounted with many tools that make an archers life easier. They are usually equipped with bow sights, scopes, and stabilizers.
A lot of energy can be stored in the bow without having to hold it with raw body strength. Therefore a compound bow is perfect for hunting, for the arrow will be faster and be given more power from the bow.
Hunters and Olympic archers use compound bows.
I personally haven't used a compound bow much, but I can tell that they are great bows and fun to use.
I am planning to practice with them more in the future.
I have an even more detailed article about compound bows online now: What Is A Compound Bow?
How to choose?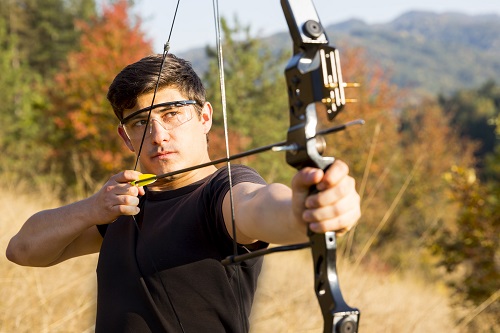 Which bow you eventually choose is up to you. Most clubs have some recurve bows for newbies to get started with archery.
Sadly there are some clubs whose members look down on traditional archers. If you want to start with a longbow it might get a bit harder to find a club that welcomes you or even has some longbows to try.
Many archers use compound bows, so you can ask another archer at a club to let you try his bow, for most clubs won't have them in stock.
I recommend starting with a recurve bow. They are available everywhere and will give you a good idea what to expect from archery.
If you already have some experience you can think about what bow you want to shoot long term.
Like I said earlier, I prefer the longbow but I still like shooting with a recurve bow, too.
If you are just getting started, jump over to my get started guide and read all about the basic archery techniques.
If you have any questions related to bows, please let me know in the comments. I am happy to answer any question and discuss with fellow archers.
Yours,
Moritz