In this article, I am going to take a look at the Spyder Takedown Recurve Bow.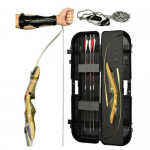 Is it really the Samick Sage 2.0 as many like to say? The Samick Sage is already a fantastic recurve bow and one of the most bought takedown bows out there.
Can this really be topped? Can a perfect bow be even more perfect?
Read everything you need to know below and choose for yourself:
---
Hi, I am Moritz and a few weeks ago the unthinkable happened!
My beloved Samick Sage broke because I was stupid enough to let it get caught between a wall and my car. When I drove backward I heard a loud SNAP!
I stopped immediately but it was too late. My bow was shattered into many pieces.
I was even too upset to take a picture….I regret that now!
Losing a bow like this is devastating.
If you have ever experienced it, you know how I felt!
However, I had to move on and it was time to look for a new bow.
Looking back now, I believe that it was meant to be. The bow I have now is AMAZING!
In case the Spyder Takedown Bow Set is unavailable, you can get the Spyder bow here.
---
How I Fell In Love With The Spyder Takedown Bow
We always say that the first love is the one you will never forget.
The same is true for your first bow.
My Samick Sage was a true friend and I absolutely loved shooting with it.
However, when I was about to get a new Samick Sage from Amazon I came across another bow.
It was called the "Spyder Takedown Bow". The description claimed that it was the improved version of the Samick Sage.
That intrigued me and I started doing some research.
What I found made me fall in love with it immediately. I didn't wait long to get my very own Spyder Takedown Bow.
Before you run off to get this bow for yourself, take a look at what I found out about it:
---
Quick Facts About The Spyder Takedown Recurve Bow
Name: Spyder Takedown Recurve Bow 

Bow Type: Recurve Bow
Draw Weight: 20 –  60 LBS
Draw Length: If your draw length is over 29″, please choose XL-limbs
Bow Length: 62″
Available For: Right Hand or Left Hand
Set Includes: Spyder Takedown Recurve Bow, Bow String, Arrow Rest, Bow Case, Stringer, Arm Guard, 3 Carbon Arrows
(For additional and bigger images, check out the Amazon website here.)
The following will be discussed below:
The Spyder Takedown Bow parts (riser and limbs)
How the Spyder is better than the Samick Sage
Additional equipment included in the package
Pros and Cons of the Spyder
---
A Closer Look At The Spyder Takedown Recurve Bow
You know the hard facts now, but let's talk about what that really means and, most importantly, feels!
First of all, the draw and release of the bow are really smooth. I had great fun shooting with it.
It looks amazing while still having the traditional touch everybody, who is a traditional archer, will love.
The Riser That Fits Perfectly In Your Hand

There's nothing more important than a good grip!
Thanks to several layers of wood, the riser is beautifully colored and fits smoothly in the archer's hand. Especially the layer of redwood makes it stand out.
It features an arrow shelf, to which you can attach the included arrow rest. That is optional, of course, depending on what feels best to you.
---
The Limbs Can Be Replaced Quickly And Easily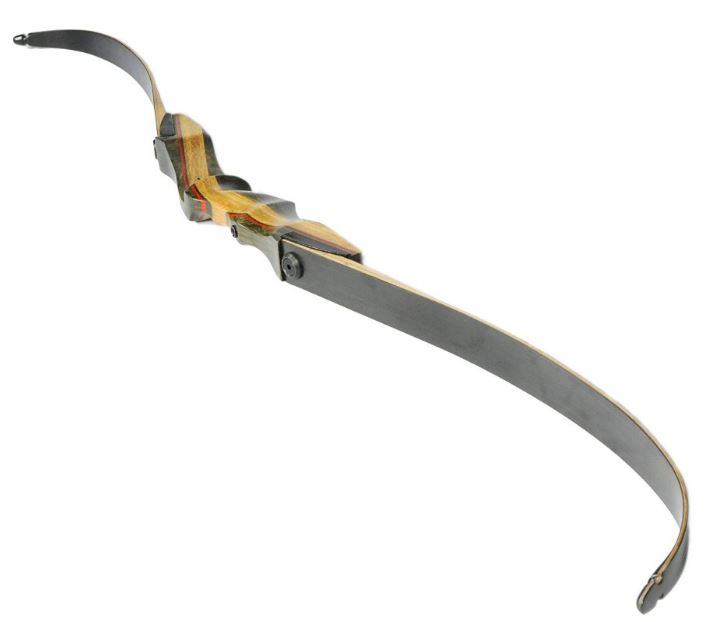 There is a large variety of limbs you can choose from.
That is one of the huge advantages of a takedown bow! With a quality riser, you don't need to buy a new bow whenever it gets too weak for you. Just get a new set of stronger limbs and you are ready to go!
If you are a beginner, or the bow is for a young archer, you can get some weaker limbs, for example, 20 LBS. A stronger or more experienced archer can get limbs with a draw weight of up to 60 LBS.
That is really a lot for a recurve bow. Remember that, unlike with compound bows, there is no let off here, so you have to pull the whole weight until you let the arrow fly!
The limbs have reinforced tips and can withstand a lot of tension. That is especially important when using a high draw weight, which results in a high arrow speed.
Please don't forget to get XL-limbs if your draw length is over 29″.
---
How The Spyder Bow Outshines Its Direct Competitor
The Spyder Takedown Bow is the improved and advanced Samick Sage Takedown Bow.
It does all that the Samick Sage can but brings it to a higher level.
One of the biggest issues of the Samick Sage are the rough edges. Additionally, the grip doesn't feel comfortable to many archers.
The Spyder was developed with theses things in mind and those edges have been rounded and the grip feels great!
The riser simply looks and feels amazing!
For this price, the Spyder Takedown Bow is a fantastic offer.
You will experience very little hand shock.
Your accuracy will be great and if you ever want to increase the draw weight, just change the limbs.
Transportation is also super easy.
Every takedown bow can be disassembled quickly.
Thanks to the included bow case, transportation will be even easier with the Spyder Takedown Bow.
I am sure that you are already beginning to understand why I am such a big fan of the Spyder Takedown Bow!
---
The Bow Case That Keeps Your Things Together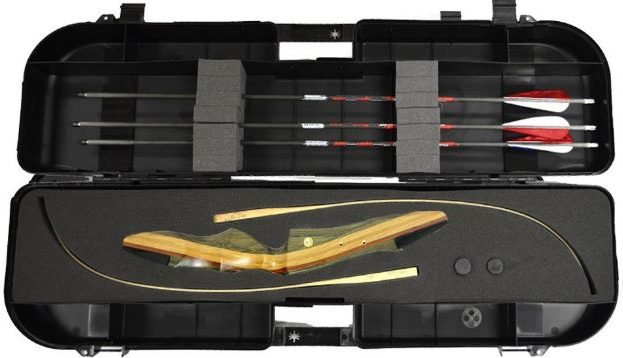 One of my personal highlights! Too often bows don't come with a case that is made just for them. So you have to buy a case which will fit poorly.
If you get your Spyder Takedown Recurve bow from here, you get it delivered in a lockable hard case. That is the best and safest way to transport a bow.
It is even airline approved, so if you are traveling, you won't have any trouble when taking your bow with you.
---
The Bow String, Stringer, And Arm Guard – Protect Your Bow And Yourself
The bow string is a standard string without a nock! You will either have to nock it yourself or go to an archery shop to let them help you with it.
Other big pluses are the stringer and the arm guard.
Both are super helpful to keep yourself and the bow safe! With the stringer, you can safely string your bow without any danger of damaging it.
A common archery mistake is to try and use it the "cool way" without this handy tool. Too many times bows get damaged then and are in need of new limbs.
The arm guard protects the lower part of your arm. I highly recommend to always wear one, especially if you are not wearing long sleeves. But even with that, it would not hurt to protect yourself!
When releasing the arrow, the string shoots forward and can connect with your arm. Without a guard, that can cause naughty bruises.
Well, I don't know about you, but I am not a fan of bruises!
---
Complete This Fantastic Package With The Right Arrows
This offer is a ready to shoot bow.
Everything you really need is included. Therefore arrows have to be part of the package, too, of course. You can choose between differently colored high-quality carbon arrows.
There are a total of 3 carbon arrows included!
---
What Makes The Spyder Takedown Recurve Bow Great
It is really the Samick Sage 2.0. It has everything the Sage has, but with a few improvements.
While the Samick Sage still had some hard edges at the riser and limb pockets, they have been rounded now.
That makes it sleeker, lighter and way more comfortable to handle.
The whole look and feel is more streamlined thanks to those changes.
Cons
Slightly more expensive than the Samick Sage
No nock preinstalled
Pros
Has everything and more the Samick Sage has
Plenty of options regarding draw weight
Easy to transport (takedown bow + hard case)
Fantastic looks
Extremely sturdy
High quality
1-year warranty
The Pros and Cons speak for themselves. I honestly can't find a reason why you shouldn't get this fantastic recurve bow.
---
Conclusion: I Love The Spyder Takedown Bow
There are many bows out there, but I always think that simple and more traditional bows outshine all the modern bows.
With the Spyder Takedown Bow at my side, I can enter any archery range proudly.
I surely don't have to hide or be ashamed of my bow.
It is super accurate and a lot of fun to shoot with.
I would recommend getting the whole set if you are just starting out with archery.
If you already have arrows and the other additional equipment, you can get just the bow here.
---
I Want To Know What You Think About This Recurve Bow
Now, that we have taken a real close look at the Spyder Takedown Recurve Bow, I want to know YOUR opinion.
Do you agree with me, that it is the Samick Sage 2.0?
Do you own it or have tried it already?
Leave your comments below and I will answer you as fast as I can.
Looking forward to talking to you.
All the best
Moritz